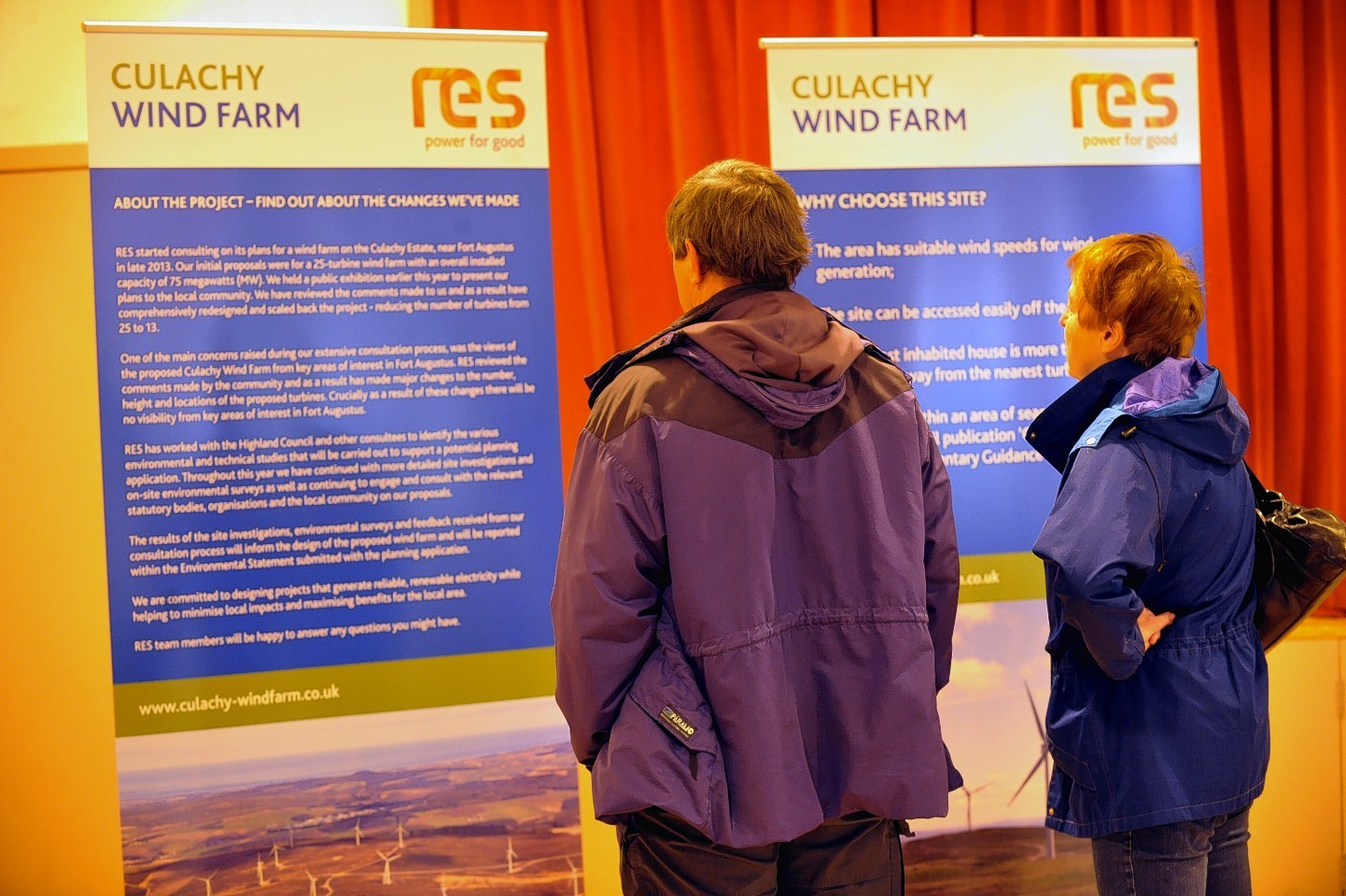 Scaled down plans for a windfarm above Loch Ness met with a mixed reaction when they were put on show to the public.
Energy developer RES revealed their new plans for the Culachy Windfarm yesterday in Fort Augustus.
The company had initially wanted to build 25 turbines on Culachy Estate between Invergarry and Fort Augustus, above the A82 Inverness to Fort William road.
But after a round of public consultations earlier this year the developer went back to the drawing board and cut the number of turbines to 13.
The changes would mean the masts would not be visible from Fort Augustus or from the A82 as the larger scale development would have been.
However, local residents are still concerned about the impact on the area.
John Foster attended the consultation yesterday.
He said: "As Fort Augustus residents my wife and I are very pleased that they've cut the number of turbines so they can't be seen from the village or from the main road.
"However, as hillwalkers we are very concerned about the cumulative effect of these developments on the hills around the area.
"From higher up you'll be able to see the turbines from as far away as the Cannich hills. I'm also somewhat concerned that this development will partly cover what has been classed as wild land."
The RES Culachy windfarm would be close to the site of SSE's proposed 67-turbine Stronelairg scheme and on the opposite side of the loch from e.on's planned Moriston windfarm, which will have up to 30 turbines.
It would also be built close to Gamesa Energy's proposed Aberchalder windfarm – and Fort Augustus man Dave Marriner is concerned about the "jigsaw effect" of all of the developments.
He said: "RES have been very generous in cutting the number from 25 to 13.
"However, it all fits together with other developments like the one at Aberchalder. That's what the developers don't show and that's what worries me most, not just about Culachy, but all of the windfarms."
A spokeswoman for RES said: "We really appreciate the time people have taken to view our revised proposals for Culachy Windfarm today.
"RES values community involvement, as we believe it plays an important part in shaping the plans for our projects and we have seen this with our proposals for Culachy Wind Farm.
"Following the last public exhibition we've made significant changes to the wind farm – with changes to the height, number and position of the turbines.
"So far we have had some very positive comments about the changes we have made to Culachy Windfarm."