A pensioner who led police on a high-speed 22-mile chase along the notorious A9 has been spared a jail sentence.
Officers in a patrol car hit 111mph as they pursued Rotraud Engleitner with their car's blue lights flashing and siren sounding.
Other motorists had to swerve out of the 65-year-old's way as she careered along the busy Inverness-Perth route in the rain at over 90mph in her Ford Fiesta.
She appeared at Inverness Sheriff Court for sentence yesterday – as police issued a warning to speeders and revealed another motorist had been caught driving at more than 100mph in the north.
The 42-year-old man was snared near Tain, the day after Dutchman Esdert Prins was fined £500 and banned for a year for driving at 130mph on the A832 Garve-Achnasheen road.
Self-employed part-time tour guide Engleitner admitted at an earlier hearing that she drove dangerously between Daviot, just south of Inverness and her home, at Cairntoul, Grampian Road, Aviemore, on September 24 last year.
The Austrian was seemingly unaware she was being chased by the police, and officers believed they were pursuing a "boy racer".
They filmed the entire terrifying incident, and Sheriff Margaret Neilson and lawyers were shown video footage.
Other cars could be seen avoiding Engleitner's hatchback and one sequence of the film showed two vehicles travelling in opposite directions coming to a halt in front of her.
She consistently tailgated cars, a lorry and a mobile home, accelerated to over 90mph in the rain, drove too close to the centre line, and forced oncoming vehicles to take evasive action and swerve on to the verge.
The film also showed her overtaking across solid white lines and on a hatched area for vehicles turning right.
When she turned on to the A95 road into Aviemore, the police car was able to draw alongside her, but she sped off again, breaking the 60mph speed limit and then the 30mph limit in the Speyside holiday village.
But a social work report stated Engleitner had difficulty accepting she had done anything wrong.
Her lawyer David Adams said: "The report is concerning in a number of ways. I have to tackle the minimisation that she makes to the social worker.
"It is not a refusal to address the issue or a deliberate attempt to try and avoid the consequences of the court.
"There is a genuine failure to understand the seriousness of what happened. She knew she had done something wrong.
"The most serious incident was the point where two vehicles travelling in opposite directions had ground to a halt and she proceeded down the middle of them, pursued by the police."
Sheriff Margaret Neilson said: "There were more vehicles on other parts of the video that could be seen scattering."
Mr Adams agreed and added: "There was a failure to realise that the police were behind her. I know that is hard to believe because their sirens were wailing and the blue lights were flashing. That in itself is concerning.
"She is retired but does some work as a self-employed Highland tour guide and she needed her transport to carry out that job. Clearly, she has retired herself from that."
Sheriff Neilson said it was "a shocking piece of driving".
She told Engleitner: "I have grave concerns over the standard of driving and also your failure to notice a pursuing police car which had its blue lights flashing and sirens blaring for an extended period."
Engleitner was ordered to carry out 200 hours of unpaid work and banned from driving for four years.
She will also have to pass an extended test before she can get her licence back.
Engleitner gasped when she heard the sentence and held her head in her hands.
Her lawyer said she was too upset to comment outside court.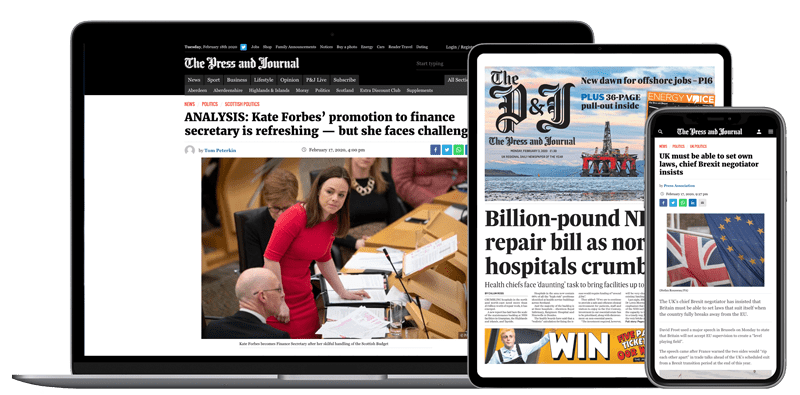 Help support quality local journalism … become a digital subscriber to The Press and Journal
For as little as £5.99 a month you can access all of our content, including Premium articles.
Subscribe