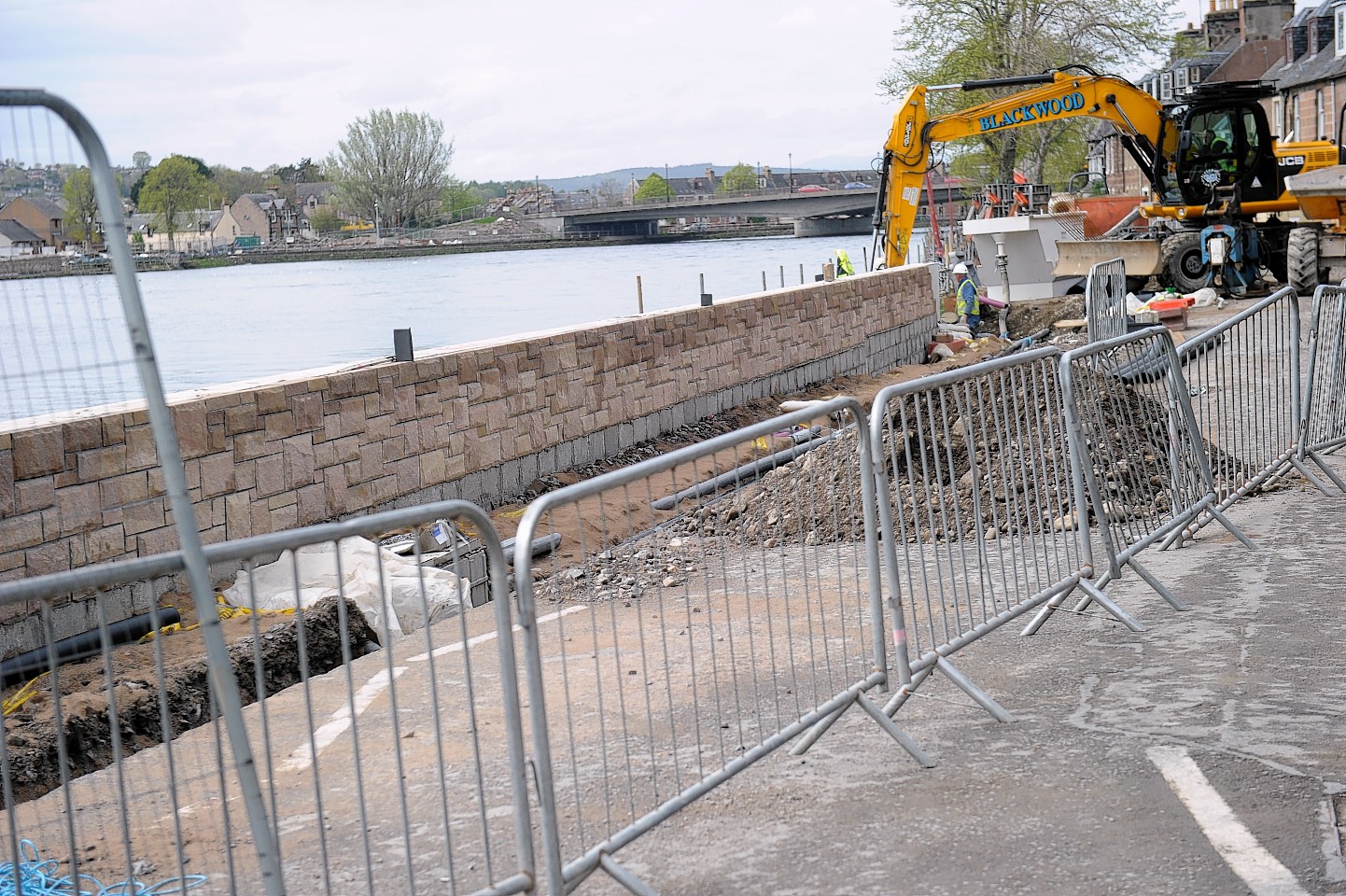 Angry traders have claimed the controversial Inverness flood scheme has cost them tens of thousands of pounds in lost custom.
Business owners spoke out as Highland Council announced the reopening of a vital route affected by the multimillion-pound project had been delayed for another week.
The "road closed" signs at Bank Street had been due to be taken down on Friday.
But it will now remain shut until May 29 because special stones needed to complete a key part of the first phase of the £24million scheme will not be delivered until next week.
Last night, local authority chiefs insisted the finished project would be "worth the wait".
But local traders said that they had suffered a major downturn in business because of the programme of street closures.
Busy routes alongside the River Ness have been shut for lengthy periods over the past three years, adding to congestion in other parts of the city.
Bank Street was originally scheduled to reopen in November last year.
The final stage of the work at the site involves contractor Morgan Sindall laying coping stones, which will not be delivered to until the start of next week.
Huntly Street will also reopen, on June 5.,and the last phase of the project, from Friars Bridge to the harbour, is on track for completion in July.
Business owners said they were relieved there was now light at the end of the runnel – but claimed they had been hit in the pocket and criticised the way the massive project had been managed.
Hugh Nicol, owner of the Riverside Gallery in Bank Street, said that he had suffered a 20% drop in annual turnover, equating to a four or five-figure loss each year.
He added: "We're resigned to one more week's delay but I'm looking forward to getting back to normal finally.
"I'll be delighted to see it open at last. It will allow us to get on with regrowing our business.
"We've seen a big, big drop in turnover because we rely a lot on passing trade and it's just not been the same while the work has been going on.
"Our next steps are very much to try and rebuild our business and let people know that we are still here."
Richie Paxton, owner of the Westbourne Guest House in Huntly Street, added: "We've had virtually no passing trade for three years now, it's been a disaster for us.
"If you put yourself in the shoes of a tourist arriving on Huntly Street then you'll look at a building site and just think 'I'm not going to stay there'.
"As far as I'm concerned heads should roll somewhere for the way it has been handled."
Allan Little is the owner of the River House Restaurant which sits at the junction of Huntly Street and Greig Street.
He said: "I like the look of it but my general impression of the work is that it's been quite sporadic, where they could maybe have blitzed on with it.
"I'll be glad to see the back of it, they could have built a new Great Wall of China faster."
He added: "We've been able to bear up ok because we are well established and people know where we are but I would not have wanted to be a new business or starting up while all of this has been going on."
Inverness Central councillor Donnie Kerr said that the delays "could have been avoided" and the council would need to look at timescales for large scale projects in future.
Inverness Bid manager Mike Smith said it was "slightly disappointing" that the reopening of Bank Street had been delayed by another week.
He added: "There's a duty for the businesses, Highland Council and Bid to make sure that everyone knows that the area is open for business once again.
"It all looks better than almost anybody had thought going into the project so we need to be promoting that as much as possible."
Highland Council's planning, development and infrastructure chairman, Councillor Thomas Prag, said: "I would like to thank local residents and businesses for their patience during the project.
"Everyone will welcome the completion of this phase of the flood scheme for many reasons and the end result will be worth the wait.
"I am sure everyone will agree that the riverside is already looking really good and it will be a really attractive place for people to spend time."
Earlier this week, it was revealed that parts of the flood walls at Greig Street were vandalised with slogans. Police are appealing for information about the incident.