Dramatic footage shows the millisecond a trucker on the A9 had to react and prevent disaster, swerving to avoid smashing into the carcass of a cow on a busy dual carriageway.
Dashcam footage shows the truck driving on the A9 at night in Perth and Kinross when the hazard lights of a vehicle become visible.
The dead cow appears out of nowhere in the outside lane forcing the driver to swerve into the inside lane to avoid disaster.
The animal had been hit moments before by an HGV which had to stop with severe damage to the front passenger side of the vehicle.
The incident took place in the early hours of Saturday morning as driver James Hammond was approaching Auchterarder.
The footage was uploaded online by website, Scotland's Worst Drivers.
Mr Hammond commented: "Had a bit if a shock last night.
"Driving from Glasgow to Dundee, happily cruising along the A9 at 50mph approaching Loaninghead services when I could see a truck about a mile ahead with its hazards on.
"No biggie I thought, it's probably just broken down. Checked my mirror, and nothing behind me, so I carried on in lane one and got ready to move over when suddenly a HUGE (I assume) dead cow appeared in front of me in lane one.
"Somehow I lurched around it and missed it.
"Went past the arctic and assumed the poor driver had hit it. Phoned 999 because although a truck might manage to go over it, it'd probably write off a car.
"If the artic driver is on here, I would've stopped to see if you were OK but there wasn't anywhere safe to pull up, and I was still trying to convince myself that I'd missed it!
"Hope driver was OK and hope it didn't end up causing another accident."
Later on Saturday an image, thought to be of the lorry which collided with the animal, was posted on Facebook.
It shows the white cab of a lorry with the left side of its bumper completely stoved in – with the bodywork and internal frame also mangled.
It is not known whether the cow was alive when it was struck by the first truck – nor is it known if the driver sustained any injuries.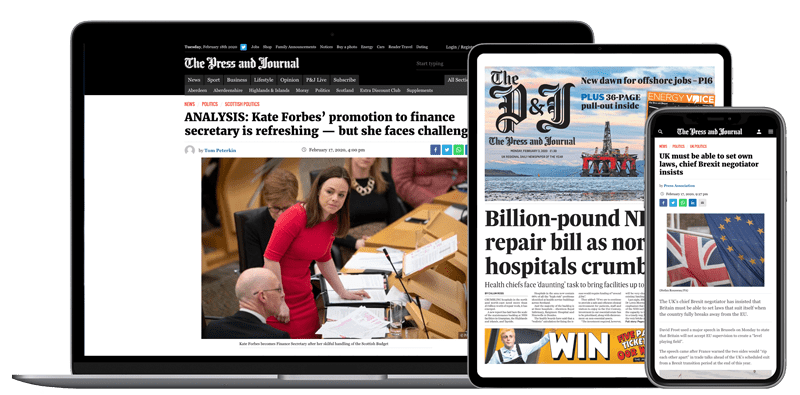 Help support quality local journalism … become a digital subscriber to The Press and Journal
For as little as £5.99 a month you can access all of our content, including Premium articles.
Subscribe