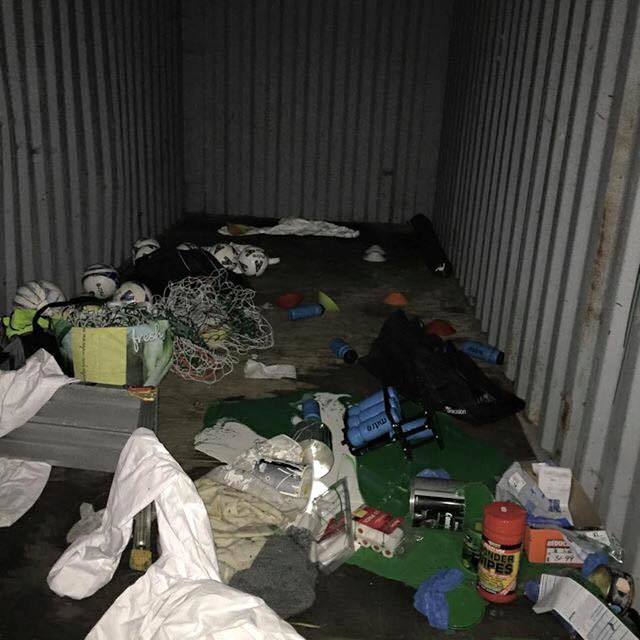 A boys football club in the Highlands has vowed not to be beaten by vandals who broke into their new container and trashed their kits.
Beauly FC's Under-17 team spent months raising funds for a storage unit at their playing fields behind Phipps Hall in the town, which was full of footballs, strips and other equipment.
But just weeks after being purchased, club staff on Wednesday found the container had been broken open, with a number of footballs missing and paint poured allover the kit.
The paint was left over from an effort by the club's young footballers to brighten the unit in Beauly's green and white colours.
Club coach Chris Finnigan said the incident was a "sickener" after all of the efforts by the team to get the kit in place.
He estimated that the team had raised about £3,000 to pay for the equipment – and that the vandals had caused £500 worth of damage.
The break-in is currently under investigation by police.
Mr Finnigan said: "Someone yesterday had burst the door open and got inside and just wrecked everything.
"The boys had all put in a lot of work to get it all set up so it's a complete sickener.
"I don't know why would do that, it's just mindless."
Set up by Mr Finnigan, the club is relatively new, providing training and matches for about 30 boys all under the age of 17-years-old.
The coach shared pictures of the damage on social media, which prompted dozens of outraged comments, as well as a number offering support to the club.
Mr Finnigan said that the main issue was the loss of the footballs, and said he hoped that other teams may be able to step in help in the short term.
A police spokeswoman confirmed that the incident had been reported to them and that inquiries were ongoing.