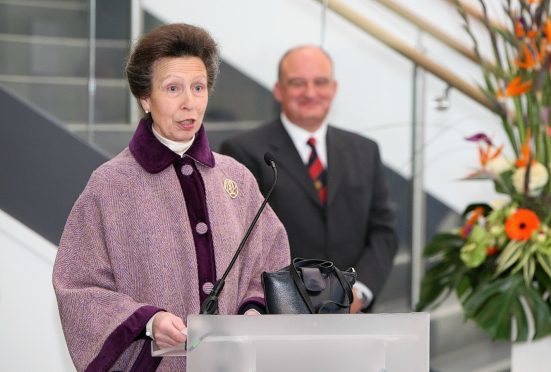 The Highlands' new university campus got top marks from its chancellor, the Princess Royal, on its official opening yesterday.
Princess Anne met a large contingent of students on a tour of the £50million Inverness College UHI complex before unveiling a plaque to mark the occasion.
Addressing an audience of several hundred students, UHI staff and local dignitaries, she said: "I hope you are all pleased with what you have achieved. It's not cheap. It's been a hugely interesting long-term project.
"I'm perfectly certain that this new facility will have a huge impact, not just on the generation here but on future generations across the Highlands and islands for the scope that it provides.
"It's an innovative working and learning environment. Studying here will be one of the most motivating experiences for students anywhere."
She had earlier viewed teaching demonstrations from further and higher education students.
The princess was given a warm reception – and bouquets from two four-year-old Invernessians, Ewan Mackay and Oihane Nekula. (CORRECT)
Celebrating the Royal visit and the significance of the big day, Diane Rawlinson, principal and chief executive at Inverness College UHI, said: "Going by the excellent student demonstrations we enjoyed today, it's clear to see why it is the destination of choice for so many students across the Highlands, the rest of Scotland and beyond."
Education Minister Alasdair Allan, who attended the ceremony, said: "The new campus is an impressive facility which will provide a range of exciting courses."
The new venue welcomed its first students in August.
It is now home to around 6,500 students and offers 200 courses that cover almost 30 subjects.