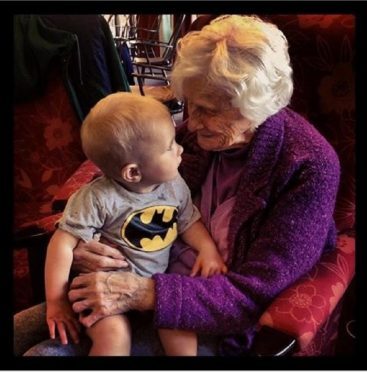 Scotland's oldest woman has died at the age of 109 at a Highland care home.
Rene Chapman, who had lived in the north for 40 years, put her longevity down to Good food and a loving family" when she celebrated her last birthday in June.
She had spent the day surrounded by friends, family and staff at the Telford Centre care home in Fort Augustus, where she had lived since 2012.
She celebrated with a birthday tea featuring a cake in the shape of a dog to reflect her love of animals.
Twickenham-born Ms Chapman dedicated her life to caring for others.
She moved to Scotland to live with friends near Fort William after falling in love with the area during holidays while in her 50s.
She never married, had no driving licence or passport and, according to her adoring nephew Clive Chapman, never boarded an aircraft.
Speaking fondly of his aunt, he said he would always remember her as a tactile and compassionate woman with a strong faith.
"Her faith was probably the cornerstone of her living," he said.
"She was like a true Edwardian, with a sense of responsibility for family.
"She spent her life looking after people – her mother, her father and two sick aunts.
"She was incredibly caring and always interested in the family."
Ms Chapman, who died last week, outlived her two brothers and a sister.
A keen pianist and church organist, she also loved tennis and dancing, and had a great sense of humour.
She was also a gardener and passionate about animals.
Mr Chapman was keen to pay tribute to those who cared for her at the Telford Centre.
"They were brilliant with her," he said.
Despite losing her sight in recent years, she remained fiercely independent.
Ms Chapman's funeral is at Inverness Crematorium at 2pm on January 13.