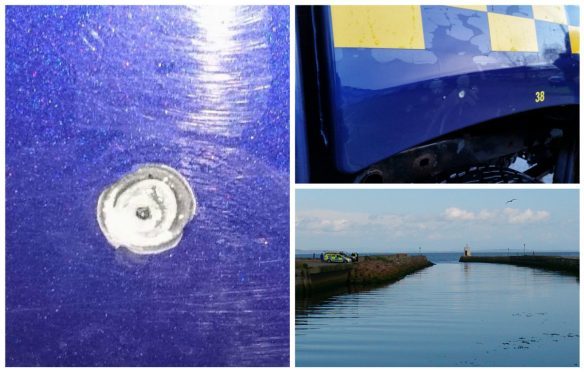 Police have launched an investigation after a coastguard vehicle was "shot" during a training exercise.
Four members of the Nairn Coastguard rescue team were inside the Toyota Hilux when it was "targeted" with what appeared to be an airgun.
The incident – which happened near a path used by dog walkers and families with young children – was branded "appalling" and "despicable" last night.
The vehicle was damaged but the rescue team escaped injury during the incident, which happened as the team checked a route that runs about two miles inland near the banks of the River Nairn between 1pm and 2pm on Sunday.
Police confirmed yesterday that they have launched an inquiry.
Tom Rennie, a station officer at Nairn Coastguard, said: "There's no doubt it was targeted. There's no way that was an accident – that was a dead-on shot at us.
"He did miss the window, which was pretty lucky because the back window was open. It could have been more serious.
"It was a mindless idiot. That's my own personal opinion.
"I'm just glad it was us they hit and not one of the kids or dogs that were out walking about. That doesn't bear thinking about."
The team did not hear the "shot" because they were driving at the time.
However, three of the four men in the car were ex-military and said they were convinced the damage was caused by a .22 pellet fired from an airgun.
Mr Rennie said it "could have taken an eye out or worse".
He added: "We were driving along the track because we have been called out quite a few times in that area. We keep our knowledge of the area up by driving along the track.
"We didn't see the damage until we got back. We wash and check the vehicle every time we go out.
"Because the riverside area along there is so dense, we didn't see anyone acting strange, but we were concentrating on our job.
"It's quite possible someone got an airgun for Christmas and was out playing on it.
"The police have the details. Three of us in the vehicle are ex-military – we all know what an airgun pellet does to a vehicle. We're 100% certain that is what it was."
Drew Hendry, SNP MP for Inverness, Nairn, Badenoch and Strathspey, branded the behaviour "unacceptable".
"It is a despicable thing to do – reckless, despicable and criminal," he said.
"I hope the police follow it up and find out who has done it, and they are able to get the message out that this kind of thing is unacceptable."
New laws tightening up the licensing of airguns were approved by Holyrood this year and are currently being introduced.
Local MSP David Stewart said: "I'm totally appalled about this incident because this could have ended up in a serious injury to the coastguards taking part in this exercise.
"I hope the police are able to catch whoever was responsible as soon as possible."
A spokeswoman for Maritime and Coastguard Agency said: "During a routine exercise the Nairn Coastguard Rescue Team response vehicle was damaged by what appears to be a shot fired from an air rifle or similar.
"Police Scotland are investigating. No-one was injured in the incident."
A police spokesman said: "We have been made aware of the alleged incident and inquiries are ongoing."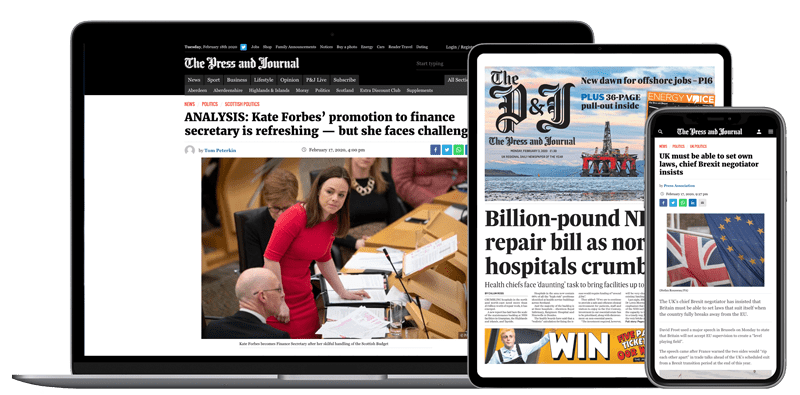 Help support quality local journalism … become a digital subscriber to The Press and Journal
For as little as £5.99 a month you can access all of our content, including Premium articles.
Subscribe