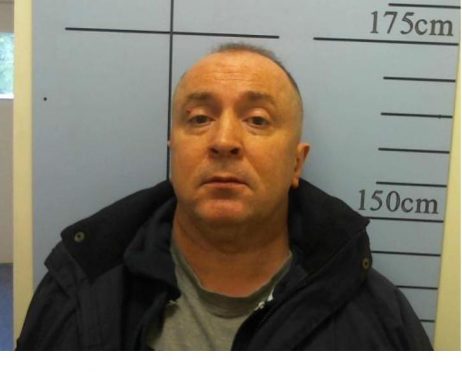 Police have vowed to scour every corner of Britain to find a murderer who disappeared in the Highlands – amid claims the case has left the force's reputation hanging in the balance.
James Casey has been on the run for a month now, having absconded from prison while on an unescorted day-release visit to Inverness.
The 50-year-old was convicted of battering father-of-two Ian MacBeth to death during a botched robbery in Invergordon in 1990.
Police issued a fresh appeal for information last night – saying they were continuing to co-ordinate "extensive enquiries" throughout Scotland and the UK.
But the force came under fire from politicians amid fears that the ongoing uncertainty may be causing the victim's family distress.
Mary Scanlon, Scottish Conservative MSP for the Highlands and islands, said: "James Casey is an extremely dangerous man who should have been caught long before now.
"The fact that a convicted murderer has been on the loose for the past four weeks isn't doing much for the reputation of Police Scotland not to mention how the victim's family must be feeling.
"Obviously there has been a lack of police progress in tracing him and the force should now be pulling out all the stops to try and get him back behind bars."
Casey was previously released after serving 11 years of his life sentence in October 2002 – but within weeks he robbed a post office in West Lothian and was jailed for 14 years.
He travelled to Inverness on day release on December 10 for an appointment, which he is believed to have attended, but failed to return to Castle Huntly by 8pm that night as planned.
Former police officer John Finnie, an independent MSP and Scottish Green Party justice spokesman, defended the force last night.
"I am sure it's not an absence of effort by the police that means this prisoner has been at liberty for four weeks," he said.
"The police rely on public support and I would urge anyone with any information about his whereabouts to come forward.
"That said, it's not without good reason that the police have advised the public not to approach this man and, until such times as he's traced and returned to a secure prison, there will be some understandable public unease he remains at large in their midst."
Police Scotland's north divisional commander Chief Superintendent Julian Innes told the Press and Journal last month that the force had been "surprised" by his decision to abscond, as it "wasn't consistent with his previous pattern of behaviour".
Casey was convicted at the High Court in Inverness of murdering Mr MacBeth, 37, who was the manager of Invergordon Social and Recreational Club.
The victim was struck at least eight times on the head with a hammer during the attack, before being taken in a car to a remote wood and given another beating.
Casey, who was then aged 26, was sentenced to 20 years in prison, which was reduced to 11 on appeal. Co-accused George McNairn, then aged 23, was cleared of murder, but found guilty of robbery and sentenced to 18 months.
Last night, a Police spokeswoman said: "Police Scotland continue to co-ordinate extensive enquiries throughout Scotland and the UK to trace 50-year-old prisoner James Casey, who was reported to police after failing to return to HMP Castle Huntly by Dundee on Thursday, December 10 following a period of day release.
"Whilst it is understood that James may have travelled to the Inverness area, officers dedicated to the enquiry continue to progress all information received about his possible whereabouts and appeal to anyone who may have seen him to contact Police Scotland immediately.
"James is described as being 5ft 8in tall, with receding hair and brown eyes.
"When last seen he was wearing a blue coat, black hooded top, blue jeans and brown walking boots.
"If seen, members of the public should not approach him and should contact Police Scotland on 101.
"Anyone wishing to provide information anonymously can do so through the charity Crimestoppers on 0800 555 111."