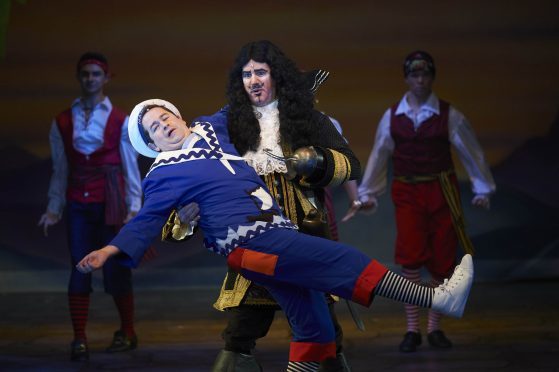 Just when you thought panto season was well and truly behind you….
Eden Court's Peter Pan has been the most popular pantomime in more than ten years, proving it is still in fashion in Inverness.
The venue has announced that the hugely popular Peter Pan, which just ended its four week run on Sunday, sold an impressive 34,395 tickets across 55 performances – the highest number for well over a decade.
Tickets for Eden Court's 2016/17 panto Dick Whittington are now on sale – for those who like to forward plan.
Only a few years ago the demise of panto was being predicted but it now seems to be more popular than ever, Eden Court chief executive Colin Marr said.
Mr Marr added: "Year on year we're building a bigger audience who trust that when they buy a ticket for the Eden Court Panto they're going to see a brilliant show.
"Speaking directly to the audience and the reaction on social media along with the local and national press reviews indicates that everyone who came had a great time. We also know that many people came along more than once and that reflects what a great show it was."
Eden Court marketing manager Teresa Bendoris said: "Panto season is really important to us and we pride ourselves on always delivering a great show alongside the team at Imagine Theatre. Everyone works so hard on making the panto the success that it is and the results speak for themselves."
This is Eden Court's seventh collaboration with Panto producers Imagine Theatre who will also be producing Dick Whittington.
Both Eden Court and Imagine Theatre are remaining tight lipped about their next panto collaboration but it's being hinted that this particular version of Dick Whittington will see the hero travel through many Highland locations en route to the big city.
Dick Whittington runs from December 6 2016 to January 8 2017 and tickets are on sale now.
Eden Court is a registered charity and is the largest multi-arts venue in Scotland. It re-opened in November 2007 following an extensive redevelopment programme, which saw the addition of two purpose built cinemas, a brand new flexible second theatre space and two dance and education studios.