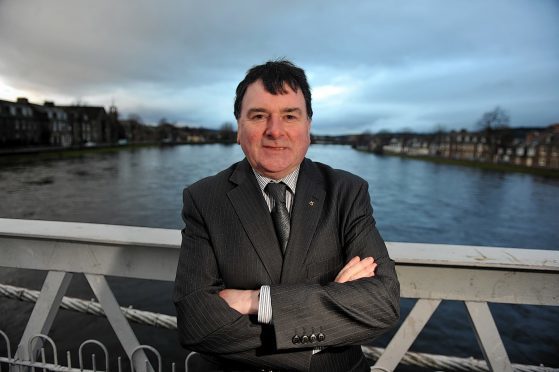 A decision favouring the west side of Inverness for future sports venues is an own goal, according to a growing band of councillors.
Opposition SNP member Ken Gowans has gathered support for a review, arguing that the logical choice is the east side of town with its university campus and more comprehensive road, rail and air links.
He claims it will also demand more facilities as its population soars in the coming decades with the birth of an entire new town at Tornagrain.
He made his point at yesterday's (WED) education committee meeting in Inverness but was told by its chairman Drew Millar that their hands were tied because overturning a full council decision taken just last month is beyond its remit.
He suggested Mr Gowans lodged his concerns as part of an ongoing consultation.
Committee members were informed by council officers that work had begun on developing a business case and initial designs for a "regional sports facility."
A funding application has already been submitted to the Sportscotland agency. The council hopes "City Deal" backing will materialise in the spring and that the necessary capital funding can be agreed in the summer.
Speaking after the meeting, Mr Gowans said: "I'm not saying the hub shouldn't be built on the west side of town but we should at least do a feasibility study in order to make a comparison.
"Nothing's been decided. As things stand, they're carrying out the research to support their recommendation which is that it's built on the west side of town.
"I'm asking that a similar exercise is carried out on the east side."
Fellow SNP member Bill Lobban agreed that the east side was "the sensible option."
He said: "The transport options mean easy access from Inverness and from the east, north and south.
"Whether we've got the money to develop it or not is another thing altogether."
Mr Gowans is confident of cross-party support for a rethink and senior independent councillor Gillian Coghill is already on board.
She said: "We should be looking at it. We shouldn't dismiss this as a done deal. We're there to service an area. You look at the place where it's going to be utilised most – like your students – and you accommodate them.
"My personal view is that somewhere near the campus would be ideal."
Education chairman Drew Millar said: "My understanding is that the council decided to allocate a budget of £150,000 to further developing the area agreed by the council around the Aquadome and Bught Park.
"The committee has accepted councillor Gowans' comments and will pass them on to those carrying out the consultation process. It's not within the remit of the education committee to change any decision taken by the (full) council."
He added that, under council rules, the decision could not be revisited within a six-month period.