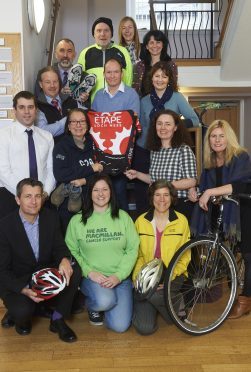 Staff at the University of the Highlands and Islands have handed over £5712.31 to Macmillan Cancer Support following a fundraising drive. Employees took part in a range of activities to raise money for the charity throughout 2015, including raffles, bake sales and a bowling night.
Individuals and teams also took part in physical challenges to contribute to the total. Tara Black from the Crown area of Inverness ran both the Inverness Half Marathon and the Baxters Loch Ness Marathon. Tara, an academic administrator at the university, collected £960 for her efforts.
Six colleagues raised £550 by completing the 67 mile Etape Loch Ness cycle in April and a further £1125 was collected when a team of 19 walked, ran, swam and cycled kilometers every day for 50 days over the spring in the 5 x 50 Challenge.
Employees' family, friends and dogs even got in on the act by taking part in a walk up Fyrish in August. The hike, which was organised by Janis Mackay, a graduate school registry officer from Dingwall, contributed over £600.
Marathon and half marathon runner Tara added: "I really enjoyed these two challenges, both are beautiful routes to run and there was plenty time between them for training. Helping to raise funds for our chosen charity also kept me on track and motivated (I really needed it at times!) A fantastic amount was raised this year for a great charity which is there for folk and their families when they really need that extra support."
The university's donation will aid the work of Macmillan Cancer Support, a national charity which aims to improve the lives of people affected by cancer.
Welcoming the contribution, Christina Keith, Macmillan fundraising manager for the Highlands and Islands, said: "Macmillan want to ensure that no one has to face cancer alone so are incredibly grateful of support from organisations such as the University of the Highlands and Islands. A huge thank you to everyone who contributed to raising such an incredible amount for people affected by cancer, it shows just what can be achieved when people work together."