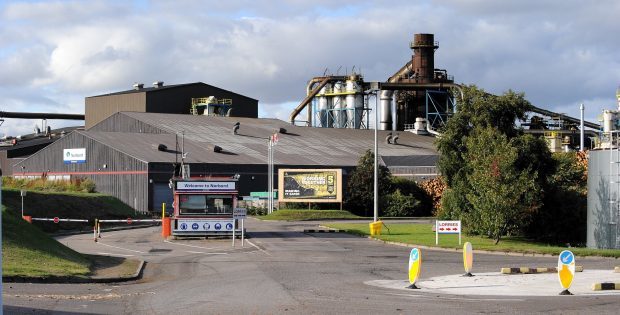 One of the north's biggest employers is to invest tens of millions of pounds in its business to secure scores of jobs in the region.
The £95million modernisation programme will allow Norbord to double production at its mill at Morayhill near Inverness.
And it will safeguard the futures of 130 workers and help support another 300 jobs – many in forestry – in the Highlands.
Yesterday's announcement from the company was a welcome piece of good news for the region after salmon producer Marine Harvest announced it was axeing 100 jobs and Rio Tinto revealed it was reviewing its smelter operation in Lochaber.
Norbord produces orientated strand board (OSB) – better known as sterling board – which is used in construction and furniture manufacture as an alternative to plywood.
The factory near Inverness was the first in Europe to produce the material when it was built in the early 1980s – and Norbord said the investment would help the Highlands meet growing demand across Europe.
Karl Morris, managing director of Norbord Europe and a senior vice-president of the Canadian parent company, said: "Our SterlingOSB product manufactured in Inverness is the UK's leading OSB brand, and with direct road, rail and port access the reinvested mill will be in an even better position to efficiently serve our customers across the UK and in continental Europe.
"This investment underscores Norbord's long-term commitment to Inverness and the Highlands region, and we look forward to continuing to play an important role in the community."
The investment is supported by an £11.4million development grant from Highlands and Islands Enterprise (HIE).
The development agency's chief executive, Alex Paterson, said: "We have been working very closely with Norbord on their development plans and are delighted to be supporting the company to invest so substantially in its Highland base.
"This development will put Norbord's Inverness plant on a sustainable footing for decades to come, and is a huge vote of confidence in the company's Scottish workforce.
"It's worth noting that the positive impact of today's announcement will be felt well beyond
Inverness and the Inner Moray Firth.
"Norbord is not only a significant local employer in its own right, it also plays an important strategic role in the region's forestry sector and is a major user of haulage companies and port infrastructure."
The expanded mill is due to be fully operational by the second half of next year, with no disruption to production in the interim.
The announcement was welcomed last night by Highland MSP and Scottish Government Business Minister Fergus Ewing.
He said: "This is great news for Inverness and a tremendous vote of confidence for the Norbord workforce who have served the company so well for decades.
"An important element of securing the investment was based on long-term reliable timber supplies – a part of which Norbord has won from Forest Enterprise Scotland.
"HIE have worked closely with Norbord for a number of years and this substantial investment is a welcome demonstration of the attractiveness of the whole of the north of Scotland as a prime business location."
Local MP Drew Hendry added: "This is smashing news. This level of vision and commitment not only secures the long-term future of Norbord, but the economic benefit will be felt across Inverness and the whole of the Highlands.
"This is the culmination of a lot of hard work by the local management and the workers at Norbord and it is a far-sighted investment by their main board.
"Having supported Norbord in their ambitions over the past few years I am absolutely delighted at this announcement."