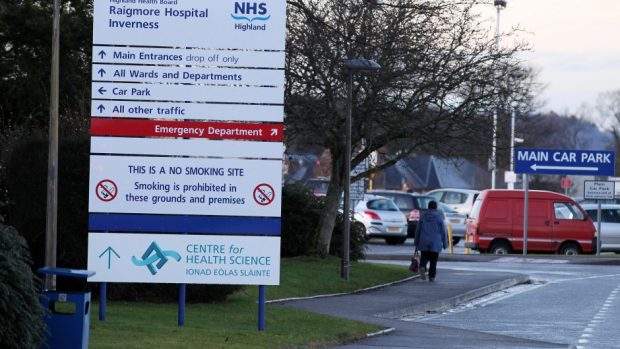 A Highland hospital ward closed to admissions and visitors two weeks ago due to the latest outbreak of the winter vomiting bug has now completely reopened.
NHS Highland said Ward 2A at Raigmore Hospital, in Inverness, is now operating normally following a deep clean.
The ward, which is the hospital's stroke unit, was closed on Thursday, February 25 due to a norovirus outbreak which affected 11 patients.
Raigmore lead nurse Iona McGauran praised staff across the hospital for their hard work during the outbreak.
She said: "Our staff have worked incredibly hard during this time in not only looking after patients but also in getting the wards deep cleaned and ready for reopening.
"I'd also like to thank the public for their cooperation during this time.
"It's never an easy decision to make when we ask visitors to stay away, but doing this not only helped protect the privacy and dignity of our patients but also kept the virus as contained as possible.
"However, we know that norovirus is still active in the community and we would ask that if you, or someone you live with, has had symptoms of diarrhoea and vomiting you refrain from coming to the hospital until clear for 72 hours."
The outbreak in Ward 2A followed the closure of medical Ward 7C due to norovirus on February 22. A total of 22 patients were affected in this ward, which reopened after a deep clean earlier this week.
There is no specific treatment for norovirus infection and it is not usually necessary to visit a doctor.
The best course of action is to stay at home and to drink plenty of water to prevent dehydration.
The health board has also issued advise on simple rules people can follow to help minimise the spread of the virus.
Anyone who has symptoms, or if someone they live with has symptoms, should not visit patients in hospital and should get in touch if they have a hospital appointment themselves. Where appropriate, the appointment can be rescheduled.
And they should wait until they have been clear of symptoms for 72 hours before attending a hospital, as they may still be contagious even if they feel well.
Everyone should wash their hands regularly with soap and water, especially after using the toilet and before eating.
And anyone visiting someone in hospital should not sit on beds and should keep the number of visitors to a minimum at any one time. They should never touch dressings, drips or other equipment around the bed.