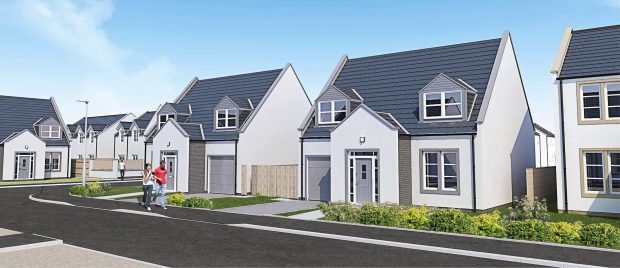 Plans have been revealed for new homes and a family restaurant on a gap site in Inverness.
Aberdeen-based developer Kirkwood Homes want to build 60 houses on vacant land at Slackbuie near the city's Asda supermarket
The developer has also said 48 full-time jobs could be created, with restaurant and pub chain Marston's already lined up to open what would be their first outlet in the Highlands.
It would also be Kirkwood Homes' first development in the Highland capital.
Outline plans for the site were put on show to the public yesterday – with a full planning application due to be submitted by the end of next month.
The housing company are developing the site with landowner Tweed Estate (New Land Assets).
Allan Rae, land director at Kirkwood Homes, said: "This is our first site in Inverness.
"We're an Aberdeen and Aberdeenshire based developer and we are now expanding out both south and north.
"It's the right opportunity at the right time. It's the right size and it's a location which suits our product. We think there's a real opportunity to do something different in Inverness."
The site is currently allocated for mixed use development under the council's local plan, although Kirkwood Homes plan to build more houses than the land is zoned for.
Mr Rae added: "It's more than the allocation but we've done a layout for the site which shows that the density is medium to low so the site has the capacity to accomodate that amount of hosues.
"That then delivers more affordable houses with 15 out of 60 affordable houses on site and we understand that's a priority for the council.
"So there's other benefits apart from bringing forward the mainstream houses.
"Also the joint application brings an economic facility with Marston's coming in with the restaurant and pub so that in itself makes about 48 associated with that.
"It's a rounded application and we think that, whilst there are more houses than is allocated in the local plan, we think that is justifiable."
Access to the site will be taken from the roundabout outside Asda, while parking for 166 vehicles will be provided on the site with 51 spaces for the restaurant.