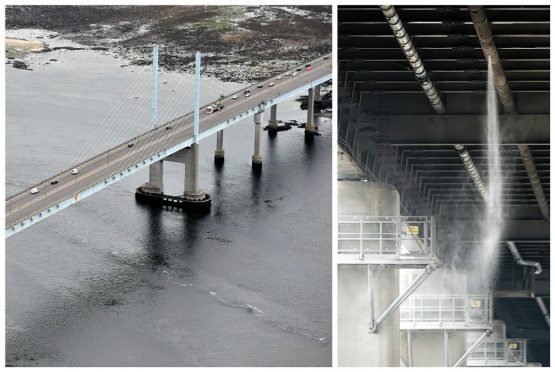 Eagle-eyed Inverness residents have been left scratching their heads after spotting that the Kessock Bridge has sprung a leak.
Gallons of liquid have been gushing out from underneath the A9 crossing like a waterfall into the Inverness Firth.
The unusual sight was first spotted by passers-by several days ago.
Bear Scotland, which maintains the nation's trunk roads, said last night that a burst water pipe was responsible for the leak on bridge, which links the Highland capital to the Black Isle.
The company could not say exactly when the Scottish Water pipeline would be repaired.
But it moved to reassure motorists and pedestrians that the problem posed "no safety risk".
A spokeswoman also said that the thousands of drivers who use the key commuter route every day would not be affected by the repair work when it is carried out.
"We are aware of a leak from a Scottish Water pipe underneath Kessock Bridge and are working with them to arrange a repair," she said.
"The leak poses no safety risk for motorists, cyclists and pedestrians using the bridge and the A9 will remain open throughout."
A Scottish Water spokeswoman said: "Scottish Water is aware of a small leak, likely caused by salt water corrosion, on a 200mm water pipe that is fixed to the underside of the Kessock Bridge.
"The cradle our engineers use to gain access back and forth under the bridge is currently out of action, however, we hope to get access to carry out a repair early next week.
"Yesterday's (Wednesday) windless weather resulted in the slight spray being visible falling from the bridge to the Beauly Firth below.
"We would like to reassure our customers that the security of their water supply will not be affected in the interim."
The problem emerged in the week that Bear Scotland unannounced that it was poised to embark on a £750,000 upgrade of the bridge.
Eight new components will be fitted onto the bridge, which opened in 1982 with a design life of 120 years, to minimise movement due to wind and traffic.
Platforms will be anchored in the firth to carry out the work from later this month, and there will be no impact on bridge traffic.
Figures revealed by the Press and Journal last year showed that traffic over the bridge have rocketed by as much as two-thirds in the past 20 years.
The average number of vehicles using the crossing on working days in February and March last year was more than 50% higher than two decades ago.
In some months, traffic volumes in the past year were more than 60% higher than figures for 1992/93.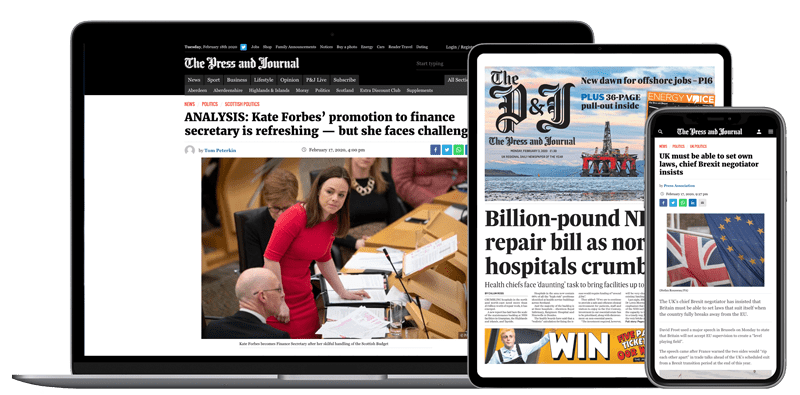 Help support quality local journalism … become a digital subscriber to The Press and Journal
For as little as £5.99 a month you can access all of our content, including Premium articles.
Subscribe