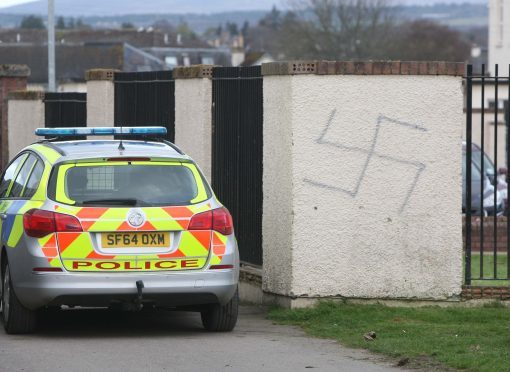 Police are investigating after several swastikas were found spray-painted on building walls and streets in various parts of Inverness yesterday.
Councillors have raised concerns as the notorious hate symbol, which represented Hitler's reign in Nazi Germany, will offend many people living in the city.
In one instance, silver or grey paint was used to create swastikas across several areas on the canal foot path adjacent to Muirton Basin. This act of vandalism was reported to police at about 9.50am yesterday morning and is thought to have occurred overnight.
More swastikas have been painted on the perimeter wall of Dalneigh Community centre, as well as the vets building in the Crown area of the city.
Inverness Central councillor Donnie Kerr said: "People don't realise what they are doing but you can understand the upset for elderly people who survived World War II.
"Graffiti is not something we have had a lot of bother with the last while. We used to get a lot between Telford Street and Cameron Square on corrugated iron fences, but it was more connected with 80s bands of the time.
"If anyone has any information about who has done it they should report it because it's an offence."
Councillor Richard Laird, who lives in Dalneigh, said: "Nobody wants to see this sort of stuff in the streets of Inverness. My suspicion is that this has been done by mindless vandals rather than as a political statement, but nevertheless it's still distressing for people to see.
"If you know who is behind it then report it to police so we can convict them."
Chief Inspector Colin Gough, area commander for Inverness, said: "We are appealing to the public for information following this incident of vandalism. We are aware that these symbols can bear associations to hate crime and are treating this incident very seriously."
Anyone with information should contact police on 101 or Crimestoppers on 0800 555 111.
The swastika was used at least 5,000 years before Hitler designed the Nazi flag. The motif to this day is a sacred symbol of good fortune in Hinduism, Buddhism, Jainism and Odinism, and is commonly seen on temples or houses in India or Indonesia.