Prince Charles was on royal manoeuvres yesterday as he honoured Highland soldiers on a visit to Fort George.
Soldiers serving with The Black Watch, 3rd Battlion The Royal Regiment of Scotland (3 Scots) welcomed the Duke of Rothesay, as the heir to the throne is known in Scotland, to their base on the shores of the Moray Firth.
The Duke is Royal Colonel of the battalion and he took the time to meet with serving soldiers and their families, clad in the regimental uniform complete with the famous red hackle.
He also presented a number of medals to soldiers for their service.
The Duke arrived at Fort George in an armoured Foxhound vehicle to be greeted by Donald Cameron of Locheil, the Lord Lieutenant of Inverness-shire.
He was then welcomed into the 19th century fortification by the 3 Scots pipes and drums and an honour guard.
The battalion recently is celebrating 10th anniversary and its most recent operation was a peacekeeping mission in Cyprus in 2015.
They are currently training to operate the armoured Foxhounds for a new role as light mechanised infantry,
The Duke shrugged off the wintry weather to view the vehicles and equipment while meeting with soldiers undergoing the training.
Lieutenant Colonel Alasdair Steele, commanding officer of the Black Watch, said: "Not only does the Duke of Rothesay have a military connection to us as the colonel of our regiment, which we hold really dear, he's got a deep personal relationship with us as well.
"His grandmother had a close connection with the battalion and his great uncle served with the battalion.
"So it's a huge honour to have him here, it means a huge amount to the soldiers and their families to meet him."
During the visit the Duke presented honours to eight soldiers and to a civil servant, Ella Walker who retired this year after a career at Fort George spanning 43 years working to help soldiers gain qualifications to help further their military careers.
One of the soldiers honoured was Sergeant Jonetani Lawaci, originally from Fiji but now living in Inverness, who was given medals for his long service and good conduct.
He has previously been awarded a Queen's Gallantry Medal for his actions while serving in Iraq and has also conducted tours of duty in Kosovo, Northern Ireland, Afghanistan and Cyprus.
He said: "It's good to be recognised. It's the second time I've met him (The Duke).
"Last time he gave me the Queen's Gallantry Medal and he's a very down to earth man."
Another to be honoured for his long service with the battalion was Sergeant Duncan Blake from Forfar in Angus who received a cumulative service medal for spending all bar two of his 12 years in the army so far with 3 Scots.
He said: "It was a proud moment to get my medal from His Royal Highness, I'm very proud obviously.
"I've never had any medals gifted to me before, I've always just got them through the mail because I've always been away so to get one from him was a great thing for me."
Also among those honoured for long service was Sergeant Charles Ross and Corporal Mohankumar Senehang, while Sergeant William Powell was honoured for long service and a commendation for tackling a kitchen fire while serving in Cyprus.
Corporal Christobel Catlin was honoured for her work in Sierra Leone during the Ebola crisis, while Captain Nicholas Coles was commended for his work providing training to the Libyan armed forces.
Captain Timothy Towler was awarded a medal for his work as current operations planner for the multinational effort against ISIL in the Middle East.
Following the medal presentation the Duke posed for a massed photograph with the entire battalion before the soldiers lined the route to give him three cheers as he departed.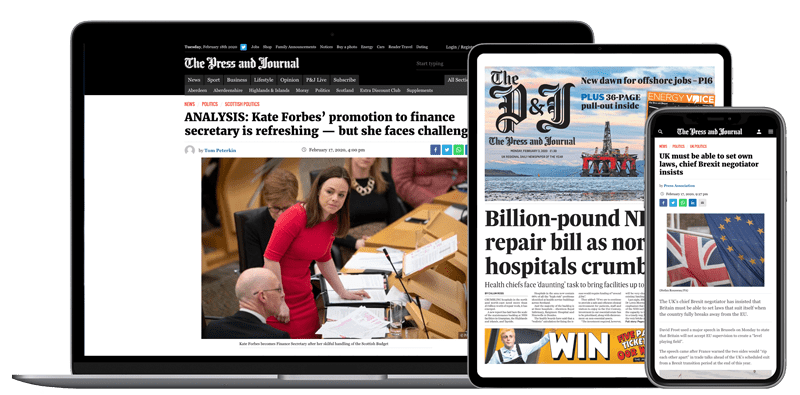 Help support quality local journalism … become a digital subscriber to The Press and Journal
For as little as £5.99 a month you can access all of our content, including Premium articles.
Subscribe