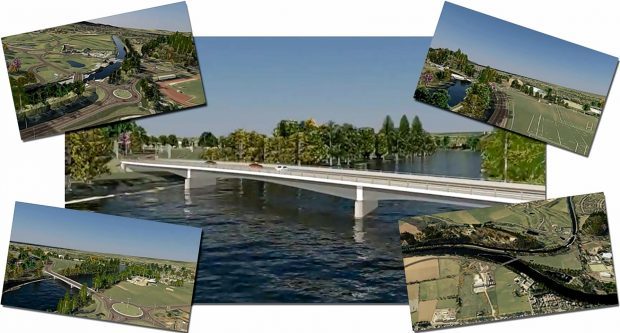 Work on the completion of a controversial congestion-busting bypass around southern Inverness is due to begin within the next few days.
Contractors will arrive on site in the next week to prepare for the start of construction on the £22.5million Inverness West Link road.
A turf-cutting ceremony is also planned to be held in the middle of next month as the long-awaited project finally gets under way.
Highland Council last month awarded the contract for the work to Irish-owned firm Wills Bros Civil Engineering, and it will include a new road linking Dores Road to the A82 Glenurquhart Road.
The scheme will also feature a new sports facility, including a new Highland Rugby Club, to replace land lost at Canal Park.
Councillor Audrey Sinclair, chairwoman of the local authority's planning, development and infrastructure committee, said local residents would soon notice major progress on the project.
"We're reaching another milestone. Things seem to be progressing well at the moment and going to plan," she said.
"You can already see bits and pieces happening on the site, people are clearing the ground.
"Very soon we will be really moving and people will begin to see progress."
The scheme, which has been on the drawing board for more than a decade, will eventually link the A82 Fort William road to the A9 Perth route and A96 Aberdeen road via the city's Southern Distributor.
It will include a new swing bridge over the Caledonian Canal and a low-level bridge over the River Ness.
Preparatory work at the site is already being carried out by contractor MM Miller (Wick) Ltd, with most of the tree removal works complete, as well as traffic management on the A82 Glenurquhart Road.
Completion of the first stage is expected late next year, with the second phase pencilled in to be finished by 2020, following the relocation of the golf course.
Critics of the plans have questioned the finances behind the scheme, and highlighted the loss of green space.