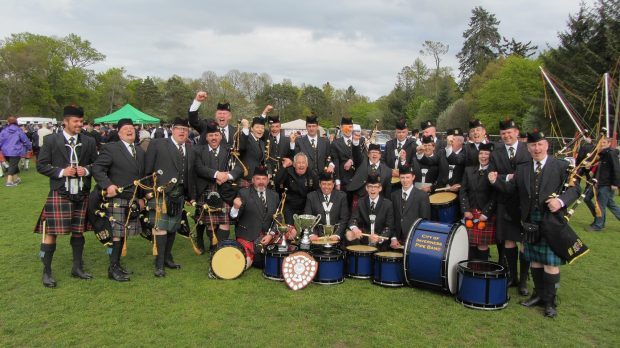 In the world of piping, with its centuries of history and tradition, they are definitely the new kids on the block.
But the newly-formed City of Inverness Pipe Band blew away the competition in their first outing at the weekend.
The pipes and drums of the city had a highly successful day at the Royal Scottish Pipe Band Association, North of Scotland Branch Competition held in King George V Park in Banchory on Sunday.
The band had a double victory in the Grade 4 category at the prestigious competition. They picked up first place in the March, and also triumphed in the March, Strathspey and Reel set.
They were awarded four items of silverware for their trouble:
 The Evan MacKenzie Shield for the North of Scotland Branch grade 4 Champion Drum Corps
The North of Scotland RSPBA Branch Dowling Drumming Trophy Cup
The John Tulloch Trophy, North of Scotland Pipe Band Champions Cup
The North of Scotland RSPBA Grade 4 Piping Cup.
Provost of Inverness Councillor Helen Carmichael welcomed the band's news, and said: "Congratulations to the City of Inverness Pipe Band on their fantastic competitive performance at Banchory last weekend.
"To not only play well, but also win every trophy in their category has been a marvellous achievement for their first competition."
Pipe Major Scott Taylor said: "This is a great achievement for the band on its first competitive outing. Our success is entirely down to all the hard work, effort and practise that everyone has put in to make individual players gel as a band. For many years, Inverness has been without a civilian adult pipe band and we are delighted that we have put the name of Inverness firmly back on the competition circuit of pipe bands championships."
The City of Inverness Pipe Band is supported by the Inverness Common Good Fund.
On the day, chairman of the Royal Scottish Pipe Band Association's north of Scotland branch, Graham Gauld, previously said he was "delighted" to be able to attract top bands to the area. He added: "Many of the bands will see the Banchory competition as a warm-up for the first of five major championships with the British championship falling on the following Saturday."