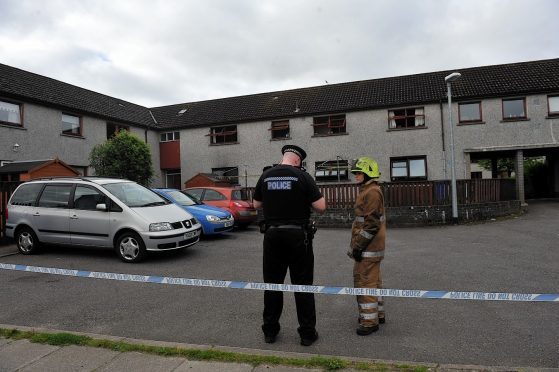 An expert believes three pieces of cable at the scene of a blaze which killed a disabled Inverness woman may have been sources of the fire – and ruled out her wheelchair as the cause.
John Colquhoun, who specialises in fire investigation for Hawkins Associates, twice examined the wheelchair used by spina bifida sufferer Barbara Anderson.
The blaze which claimed her life broke out in the bedroom of the 51-year-old's ground floor flat in Leyton Drive, Hilton, in August 2013.
Earlier in the fatal accident inquiry into her death, another forensics expert, Iain Peck, found that a piece of cable which connected the wheelchair's joystick to an underlying battery showed evidence of a "large arc event with the transfer of copper from one core to another".
Kenneth Morton, an electrical inspector for the Health and Safety Executive, also suggested that a loose connection could have caused an arc – an air gap between two wires which, with enough energy, could act as a conductor and heat up.
But yesterday Mr Colquhoun, who has carried out about 200 fire investigations, said that he found no evidence of molten copper, suggesting it was rust instead.
He also said that, given the wheelchair was not being charged at the time of the fire, there would be insufficient current drawn from the battery to generate enough heat for an arcing event.
He also criticised the fire investigators for allegedly failing to investigate three pieces of cable shown in photographs taken at the scene.
These included a piece of copper wire conductor lying on the floor close to the area where the fire started, which Mr Colquhoun said should have been photographed and investigated as to where it came from and plugged in to.
Another piece included a cable which was tied around the bottom of the wheelchair, which Mr Colquhoun said he identified as not being part of it.
He said that a third piece of unidentified cable was found hanging from a wardrobe handle, likely to have been moved during the fire and rescue efforts.
Mr Colquhoun concluded that the origin of the fire was external, conducive to "deep charring" in the carpet, which he said was a "clear distance" in front of the wheelchair.
He added: "It appears the fire service have missed and discounted quickly several potential sources of ignition before even examining the wheelchair.
"I can not rule out an appliance in the bedroom which has ignited at the time of fire causing fire, considering that we have unknown conductors – a potential minimum of three conductors in the bedroom which have not been examined and which were all damaged at the time of the fire."
The inquiry has now been adjourned until August 15.