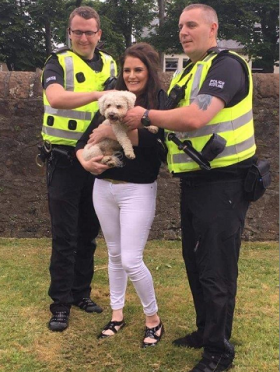 Police have reunited an Inverness woman with her beloved dog Elvis eight months and 200 miles away from home.
Officers in Irvine, Ayrshire, revealed that they had returned the four-year-old Bichon Frise to his owner in the Highland capital.
The force said that a 61-year-old woman was due to be reported to the procurator fiscal in connection with alleged reset.
They also urged pet owners to take precautions to make pets traceable.
Elvis is believed to have been reported missing to police in Inverness in October last year.
He was recovered on Wednesday last week by officers in Irvine.
The officers who found Elvis posed for pictures with his owner as they were reunited.
A post on social media in the name of Sharon Fallen said: "I promised I would never stop looking for you and I didn't. I found you. My boy is coming home."
She later added that the reunion had been the "most heartbreaking moment ever" as she could hardly recognise him.
Friends were delighted by the reunion.
"I can't wait to see his wee face. Sharon is on her way to Ayr as we speak to collect him," one wrote.
Another said: "You must have been worried sick. Lucky little Elvis – bet you got a huge welcome."
A spokesman for Ayrshire Police Division said: "We can confirm that a 61-year-old woman will be the subject of a report to the procurator fiscal for alleged reset in connection with this incident.
"While incidents of dogs being stolen are relatively rare we would encourage owners not to become complacent – to ensure their property is secure and to ensure their dog is micro-chipped and their contact details are regularly updated on the providers database."
All dogs over eight weeks of age in Scotland – including farm collies – must be microchipped and registered on an approved database.
Other new conditions include keeping the database up to date with owner details and giving notification of any change in owner, address or contact details. Litters of pups and dogs must be chipped and registered before pups are sold or ownership changes, and any pups or dogs entering Scotland must be chipped and registered within 30 days of arrival.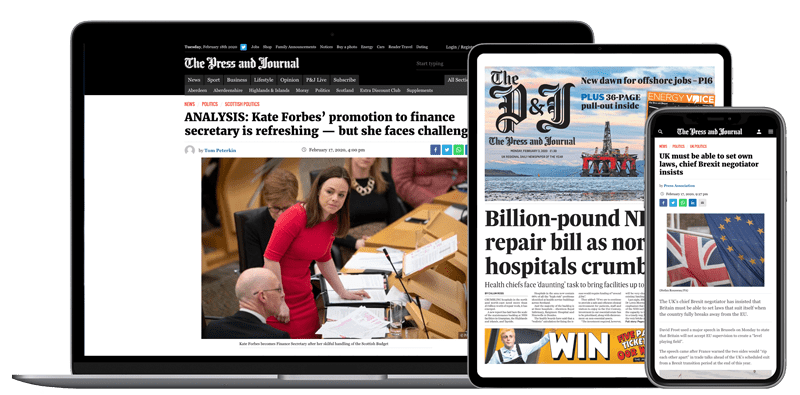 Help support quality local journalism … become a digital subscriber to The Press and Journal
For as little as £5.99 a month you can access all of our content, including Premium articles.
Subscribe