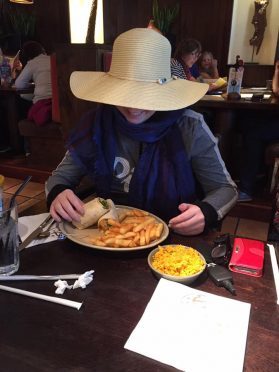 Injured Inverness judo star Stephanie Inglis reached another important milestone in her recovery yesterday – a long-awaited lunch at Nando's.
And the occasion was made even more special because the 27-year-old was able to join her sister Stacey at the restaurant to celebrate her birthday.
An update on the SaveSteph social media web page yesterday said: "So today was the day Steph got her first wish lunch at Nando's.
"We had to go in disguise, but we had a great time.
"Steph really made the most of it and has worked so hard to get to this point.
"Great job Steph – another milestone achieved on this incredible journey, and happy birthday to Stacey."
And Stacey commented: "Best birthday present – Stephanie Inglis taking me to Nando's."
Their mother, Alison, of Inverness, last night said the Commonwealth Games medallist had been longing to visit her favourite eatery since soon after she came round from the accident.
Steph, who is from Daviot near Inverness but had been living in Dunfermline, suffered serious head injuries when her skirt caught in the wheel of a motorcycle taxi and pulled her off the bike on her way to work as an English teacher in Ha Long, Vietnam, on May 10.
Local doctors initially gave her a one per cent chance of survival, but she was brought out of a medically-induced coma last month and flown back to Scotland, where she is now in a rehabilitation centre in Fife.
Mrs Inglis said: "She loves hot, spicy food and had been saying she was really looking forward to having a Nando's.
"It was one of the first things she said when she came round after the accident."
And the athlete was able to join her mother, her father Robert, and other family members for the celebrations at Nando's yesterday.
Her mother said: "We were all delighted she was able to be there.
"It was a fantastic day for Steph and Stacey. They both thoroughly enjoyed it.
"She's doing incredibly well, but the trip to Nando's really took it out of her. She was very, very tired at the end of it."