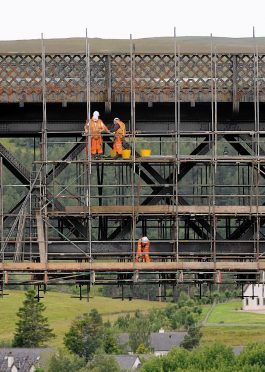 These pictures show the giant tower of scaffolding which has been erected to carry out a mammoth paint job on a landmark Highland railway viaduct.
Yesterday, as work got underway, several men in orange boiler suits could be seen moving up and down the 17 floors of scaffolding surrounding one of the Findhorn viaduct's huge stone pillars.
Network Rail has just started a £4.5million, year-long project to repaint the viaduct. The plan is to blast off the old paint, check and repair the metalwork and then repaint the structure.
Strathdearn community council chairwoman Viv Roden said: "I think this is only a good thing. Any kind of maintenance is a good thing, especially in the current climate.
"It's not a problem having scaffolding up for that length of time if it's necessary. If it's going to improve it, and painting will, then that's great. We have had no complaints".
The viaduct carries the Highland main line 160ft above the River Findhorn valley below, and a steel lattice structure on top is supported by eight tapering stone piers, the highest of which stands 145ft from the ground.
The two piers which flank the river stand on plinths, whereas the others plunge directly into the earth.
Built between 1894-97, the curved viaduct was designed and built by Sir John Fowler and Murdoch Paterson to carry the Aviemore-Carrbridge-Inverness direct line built by the Highland Railway Company.
During World War II, men belonging to the Linge company, a team of Norwegian resistance fighters who trained in Speyside, once climbed up the viaduct during nightfall to plant dummy explosives underneath the steel lattice.
As the story goes, the next day the group returned to the bridge and only half of the men could pluck up the courage to scale the giant pillar when they saw how high it was in daylight.
The work on the railway viaduct began as ground investigations started in preparation for dualling the Tomatin to Moy section of the A9. It is the most northerly section of the trunk road to be dualled in the current £3billion project.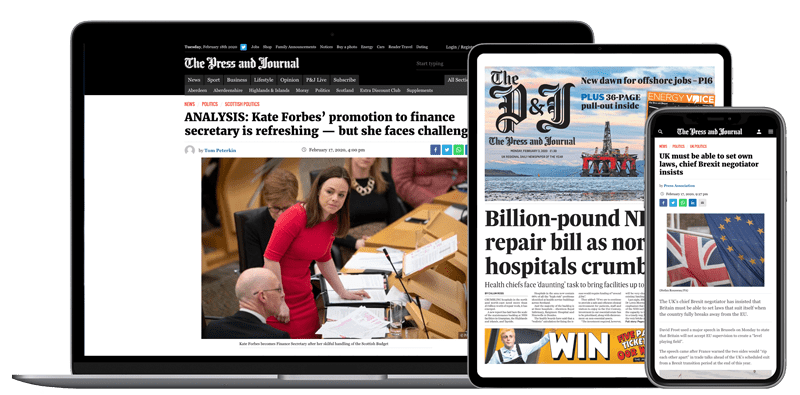 Help support quality local journalism … become a digital subscriber to The Press and Journal
For as little as £5.99 a month you can access all of our content, including Premium articles.
Subscribe