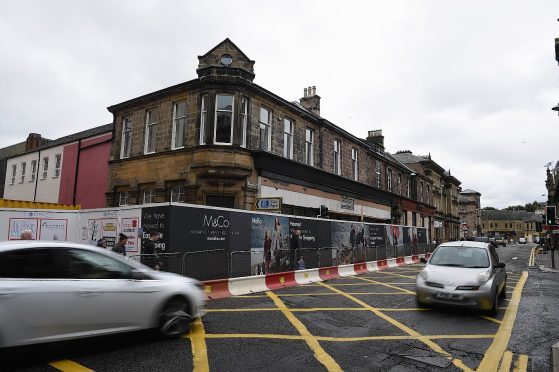 The removal of eyesore scaffolding from a fire-hit Inverness shop has been welcomed by community leaders.
The refurbished M&Co department store in the city centre is edging towards a resumption of normal business.
The metalwork has been removed in stages over the past few days and it is hoped the staff will be able to move back into the property soon after many months in a temporary location at the nearby Eastgate Centre.
Mike Smith, of the city's business improvement district scheme, described it as "great news".
He said: "It's another stage of the process to having M&Co return to Academy Street. They're looking to reopen the store before the end of September.
"For M&Co and all the parties involved, including ourselves and Highland Council, it's amazing how quickly they've turned this round.
"If we're looking at a rebuild and sorting out all the financial matters such as loss adjusters and insurance claim, to get it done in this period of time is a great credit to everybody involved."
It is understood that Strothers Lane will remain closed for the time being to allow an internal fit-out of the Academy Street store.
Stewart Nicol, chief executive of Inverness Chamber of Commerce, said: "It's excellent news.
"It's a strategic part of Academy Street and the whole city centre, so it's good to see not just the scaffolding down but the building fully refurbished and hopefully open for some serious business.
"It's been a long time but in the overall scheme of things it's been fairly focussed and everyone around that part of Academy Street has worked hard to keep things going in the intervening period."
The historic store was extensively damaged by a fierce blaze last year.
Dozens of firefighters tackled the blaze on the evening of April 15.
Crews from across the Highlands remained stationed at the site for days afterwards to contain it.
The aftermath caused significant traffic disruption. with Academy Street closed to two-way traffic for six months.
The listed building, which dates back to 1792, was the original Inverness Royal Academy.
M&Co's reopening date is yet to be confirmed.