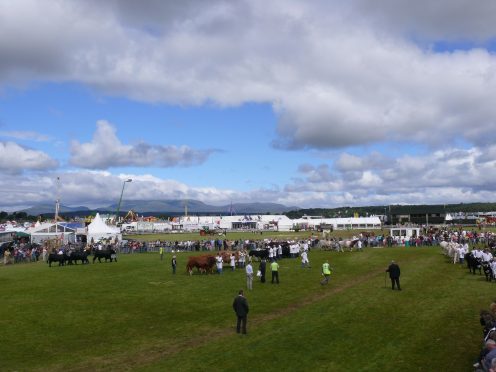 Thousands of people turned out for the Black Isle Show yesterday – but boggy car parks caused hour-long delays at the exits.
Heavy rain the night before caused the ground to cut up easily, and some people could be seen leaving their cars to help others who were stuck in the mud amid the afternoon exodus.
Show organiser and one of the Black Isle Farmers Society's directors, Elaine MacRae, said: "People are aware of the situation and potential difficulties and are just taking it in their stride. We are addressing as many of the problems as we can and have a team on hand. We have not had any complaints. People are prepared for the weather and it's not deterred anyone."
Dingwall-based Chief Inspector David Ogilvie said: "The weather has been the biggest issue but organisers have had plans in place with tractors there to help assist people out of fields.
"We also had some thefts last night – some alcohol, sweets and confectionary was taken from a tent. That's not unusual. There are officers on patrol 24/7 but its a big area and these are tents, not buildings, so there is always the risk."
But it took more than the weather to dampen the spirits at yesterday's show.
A total of 321 stalls – ranging from local food and farming outlets to flower shows – had booked their place at the annual event.
Entertainment also pleased the crowds throughout the afternoon in the centre ring, which was also used for judging livestock.
A highlight was Kangaroo Kid, an Australian quad-biking duo who wowed crowds with their daredevil stunts.
Meanwhile, cabinet minister for rural economy and connectivity Fergus Ewing made an appearance to talk to representatives of the National Farmers Union.
After the meeting he said: "We have got a good relationship with the NFU and work closely with them represent a number of farms and it's very important that we listen to farmers and crofters, particularly at this time of uncertainty given the Brexit vote.
"We need to value farms for two reasons, for producing food and being the guardians of the countryside. Sometimes they don't get the credit they deserve for being guardians of the countryside and lookimg after farms to hand on to the next generation, and for producing food for the nation. That should never be taken for granted."