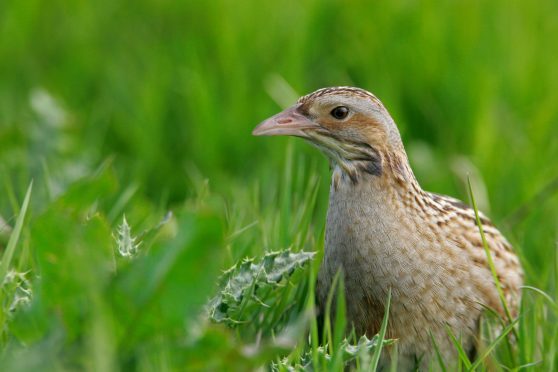 It's already one of Scotland's rarest birds and new research has revealed that corncrake population numbers are in decline.
More disturbingly, the RSPB's findings demonstrate the figures have decreased for the second year in a row.
The corncrake is a chestnut-coloured bird related to moorhens and coots and has always been popular with "twitchers".
In total, 1059 calling males were recorded during the annual survey, a fall of 3% since 2015 and 23% since 2014.
Director of RSPB Scotland, Stuart Housden said: "Effective financial support to crofters and farmers has enabled them to deliver what threatened wildlife needs, benefiting nature, farming communities and all of us as a result.
"But, following the EU referendum [result], we now face huge uncertainties, regarding the future of agricultural support payments.
"During this period, the fortunes of our corncrakes, and the High Nature Value farming that support them, stand as a key test for the Scottish Government."
"Existing environmental schemes with effective measures for wildlife, and the right payment rates to ensure good uptake by farmers, must remain in place next year and beyond, until new arrangements have been developed."
The RSPB highlighted the fact that islands such as Berneray and Barra have seen as few as 268 male corncrakes this year, whereas the number stood at 345 as recently as 2014.
The corncrake is a bird that changes habitat if conditions are unfavourable, but isn't known for moving often.
It breeds in Scotland during the spring and summer, before migrating to Africa during the winter.
Once the birds have relocated to a different area, it can be very difficult to lure them back to their original home.
At the moment, Tiree is home to most corncrakes with 346 calling males recorded, but that is still a decrease from 396 two years ago.
Despite the diminishing numbers, the RSPB has pointed out the species recovered from a bigger fall, when there were as few as 400 calling males in the 1990s.