A bottle used to teach children how far litter can travel by sea has washed up on a Scottish island following 8,700 mile journey.
The bottle was launched into the sea by scientist Aevar Thor Benediktsson at the oldest lighthouse in Iceland on January 10 last year.
From there it was tracked by GPS and travelled more than 8,700 miles to eventually land in Tiree, in the Inner Hebrides.
Rhoda Meek, 34, from Caolas on the island was messaged by a friend who worked for a TV station to let her know that it had washed ashore near her home.
She spent half an hour looking for the 'bottle' which was encased in a protective yellow shell and had barnacles latched onto it by the time it arrived.
The bottle was expected to land somewhere in Norway but took the long route to Scottish shores as it went west nearly hitting Greenland and the north-east of Canada.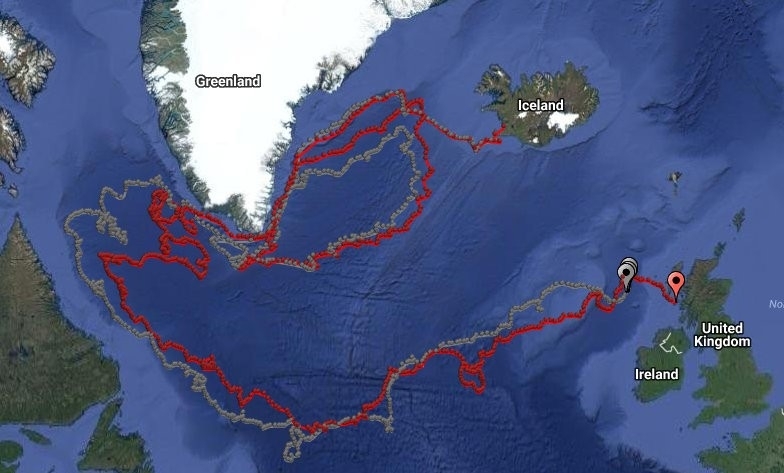 It was part of a project by Icelandic television station RUV to teach children that litter dropped in the sea does not disappear but becomes a problem for people living on the coast elsewhere in the world.
Rhoda, a customer service assistant for tech company, will now wrap the bottle up in foil and return it to Iceland.
She said: "My friend was following it online and messaged me to see if I would go find it.
"It's only half a mile down the road from me and it sounded interesting so I thought I'd check it out.
"I wasn't too sure what I was looking for. All I was told was that it was a bottle but it's much bigger and chunkier than that.
"I'm quite jealous of the adventure it's been on. I've had a look at the map and it looks like it's been near Canada and Greenland before eventually arriving in Tiree.
"I've got to wrap it up in tin foil, kind of like a burrito, now to limit the GPS signals and send it back."
The project was a collaboration between children's TV host Aevar and the engineering firm Verkis.
A second bottle is an estimated 300km behind but it is not yet clear if it will follow the other bottle by washing up on Tiree.