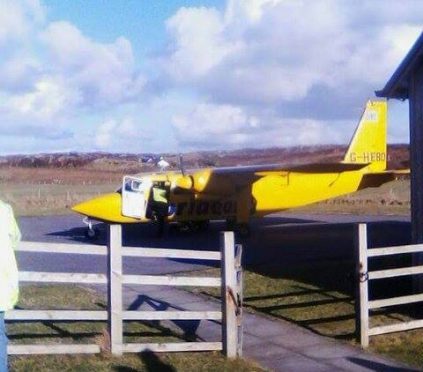 Passengers touching down at Coll Airport earlier today spotted smoke coming from the plane as it was landing.
The Hebridean Airways flight was due to return to Oban from Tiree, before the Islander aircraft suffered a flat tyre during a scheduled stop at the neighbouring isle of Coll.
Passenger Andrew Fyfe from Inveraray in Argyll said: "The fireman on duty reported it while observing from the runway, several passengers also saw it smoking.
"We left the plane and after several attempts to inflate the flat tyre (there are two on either side) the pilots informed us that they would be flying on to Cumbernauld for repairs, but that we could not carry on the journey with them.
"In the terminal, we were given the option of staying on Coll or returning to Oban by Coastal Connections boat.
"I think it is fantastic organisation by Hebridean, to have a back up plan to let us carry on the journey."
The passengers, understood to be around six in total, were being collected from Coll at 7pm, and due to arrive in Oban by 9pm.
A spokesman for Airport operator Argyll and Bute Council said: "The 3.30pm flight to Coll had a burst tyre.
"I don't know how many passengers were aboard, there were two crew.
"The passengers are being taken back to Oban by ferry this evening.
"The plane is going back to the Hebridean Air Services base at Cumbernauld."