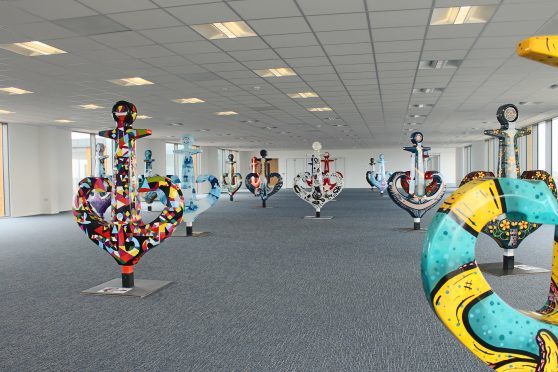 The most northerly anchor in a chain across the northern isles and north-east in aid of charity has been installed.
The sculpture on Lerwick's Esplanade in Shetland is one of 20 artistic designs placed across the region to mark two decades of Aberdeen charity Friends of Anchor.
The Shetland anchor is titled The Parting Song and was designed by artist Lindsay Allardyce.
The anchor and all its sister sculptures will remain in place until the end of October when and will then be auctioned off for charity.
The Shetland anchor was put into place by Shetland Islands Council's road teams on Friday.
The council's director of infrastructure services Maggie Sandison: "My team are delighted to be able to support the Friends of Anchor in their fundraising campaign. So many Shetland residents have benefited from the equipment, care and research that Friends of Anchor have raised funding for over the last 20 years.
"Hosting the decorative anchor before it is sold is a very small contribution from the council towards their celebration of this milestone year.
"Lindsay says her artwork is inspired by Nordic designs and the colourful anchor should be a visual reminder of the care and support that the Anchor Unit has provided to Shetlanders over the years."
The sculptures are part of the charity's Dream Big campaign, which is aiming to raise £1million to donate to Aberdeen University's drive to attract a world-class oncology research team to the north-east.
It is hoped the medics will have a lasting impact on the treatment available for cancer and haematology patients in the area.
People can donate £5 to the cause by texting "ANCH20 £5" to 70070.