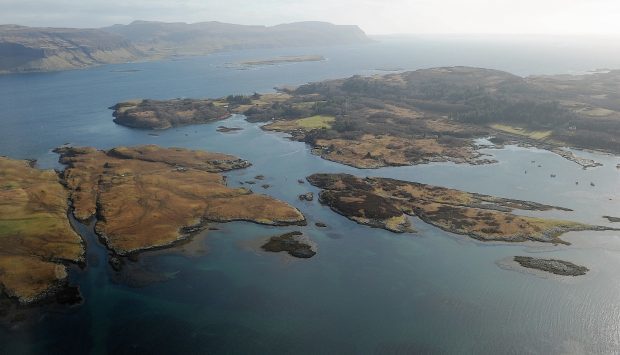 Rita Campbell
Plans by a community to purchase a tiny west coast island have been delayed after the group realised its initial application would be declined.
North West Mull Community Woodland Company (NWMCWC) has now made a fresh bid to buy Ulva.
The Argyll island off the western coast of Mull was originally being advertised for offers in excess of £4.25million.
But it was automatically taken off the market in July when the community company applied to Scottish Government ministers under community right-to-buy legislation.
The group wants to manage the estate "to provide sustainable benefits to the community" and for future generations, including the "repopulation of the island".
In its latest update about the buyout plans, NWMCWC writes: "Since we made that application, and after our legal searches had been carried out, we have become aware that the ownership of certain parts of the Ulva Estate is now different from the information included in our application.
"We also learned that certain parts of the estate would not be put on the market. Other matters surrounding boundaries of land at Ulva Ferry and details of executors have also come to light since we submitted the application.
"As these matters would mean that our application would inevitably be declined by Scottish Ministers on these issues, we took the decision to withdraw it.
"Instead we have submitted a new application addressing the above.
"We should expect to hear within 30 days whether this new application has been successful."
If successful in obtaining a registration of its right to buy, the community company will have eight months to put together a funding package and complete the purchase.
The island is approximately 7.5miles long and 2.5miles wide. It has around 16 residents.
Ulva is currently owned by Jamie Howard, who inherited it from his mother following her death in 2014.
Mr Howard said: "We will wait and see what happens."
A Scottish Government spokesman said: "We are aware of the withdrawal of the initial application, and have received a revised application under the Community Right to Buy Legislation from North West Mull Community Woodland Company Limited, over the Isle of Ulva.
"As part of the legislative process, a prohibition notice was issued to the landowner on September 6 inviting them to provide any comments on the application.
"Scottish ministers will make a decision on the case upon receipt of all relevant information."