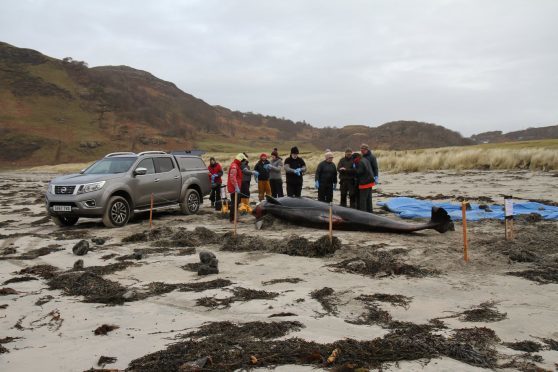 A long-finned pilot whale suffering from a "chronic level of stress" has died after stranding on the Isle of Mull.
The Scottish Marine Animal Strandings Scheme carried out tests on the animal which came ashore at Calgary beach.
A spokesman said: "It was an adult male, most likely quite an old animal, which was observed to live strand, seizure and die rapidly following the initial stranding.
"Calgary Bay is a stunning wide, soft sand beach on the north west coast of Mull and, as far as we know no other long-finned pilot whales have been seen in the area recently.
"The team on Mull were able to pull the carcass up the beach and cover it, enabling us to do a really thorough examination.
"We found clear evidence for live stranding, but not much other gross pathology and no significant evidence of trauma.
"There was no bruising or indication of recent previous stranding and no evidence of entanglement or bycatch."
He added: "Examination of the adrenal, however, suggested the animal had been suffering from a chronic level of stress, and the brain showed dilated cerebral blood vessels and focal areas of bruising.
"I don't think this pathology was just due to the process of stranding and suspect this animal was suffering some type of encephalopathy, ie brain disease or dysfunction. We'll know more once we've completed the bacteriology and histopathology tests."
A pod of pilot whales stranded in July, 2011, at the Kyle of Durness in what is believed to have been Scotland's largest ever event of its kind. Some 19 of the 70 whales died.
But that stranding was believed to be linked to four large bombs exploded underwater by the Royal Navy.
A long-delayed report by the Department for Environment Food and Rural Affairs said that the noise from the explosions could have damaged the hearing and navigational abilities of the whales, causing them to beach and die.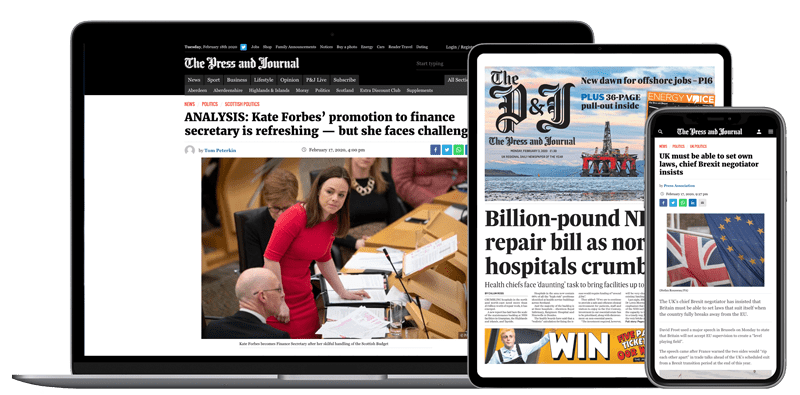 Help support quality local journalism … become a digital subscriber to The Press and Journal
For as little as £5.99 a month you can access all of our content, including Premium articles.
Subscribe