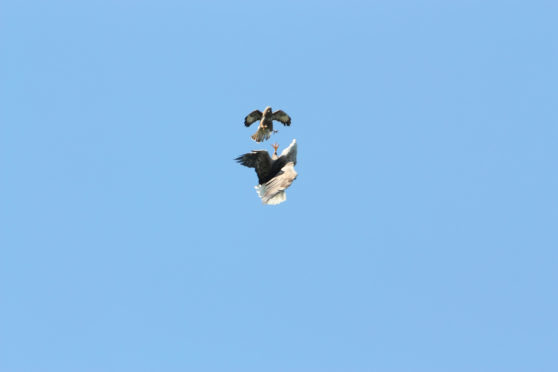 A fight with an intruding male may have damaged eggs in the nest of a pair of Mull Eagle Watch sea eagles.
Rangers from the Mull and Iona Community Trust and RSPB watched in horror as the aggressive interaction between the resident pair and a bold – and unknown – third bird escalated.
The nest is sited at the historic Craignure Golf Course, and has been chosen for Mull Eagle Watch this year.
At one point the incubating male Scalla, aged 22, came off the eggs to give chase while the female Anna, 23, stood guard on the nest. It is feared that amid the chaos and commotion on and around the nest, the eggs may have been broken.
RSPB Mull Officer Dave Sexton said: "We can protect the eagles from people but we obviously can't do anything about natural, wild behaviour such as territorial disputes and hostile take-over bids by incoming eagles. It's all part of sea eagle life and shows the population is doing well and beginning to manage itself. The hope is now that Anna will lay a new clutch of eggs and we've got everything crossed for them."
In the past it has been shown that if sea eagles lose their eggs early on in the incubation process, they are sometimes able to lay a second clutch. As Anna only laid her eggs just over a week ago it is hoped they will now have a second chance to raise a family this year.
Mull Eagle Watch is an award winning partnership with police to protect eagles and their nests from human disturbance and it works with Forestry Commission Scotland and Scottish Natural Heritage to show visitors the nesting eagles from a safe distance. It benefits community projects on Mull such as community forests and the golf course which is raising funds to buy new maintenance equipment.
Public trips to view the sea eagle drama continue at Craignure Golf Course with bookings via the VisitScotland Visitor Information Centre.
North West Mull Community eagle watch near Dervaig has also just started running trips to view their sea eagles, Hope and Star, whose eggs are due to hatch shortly.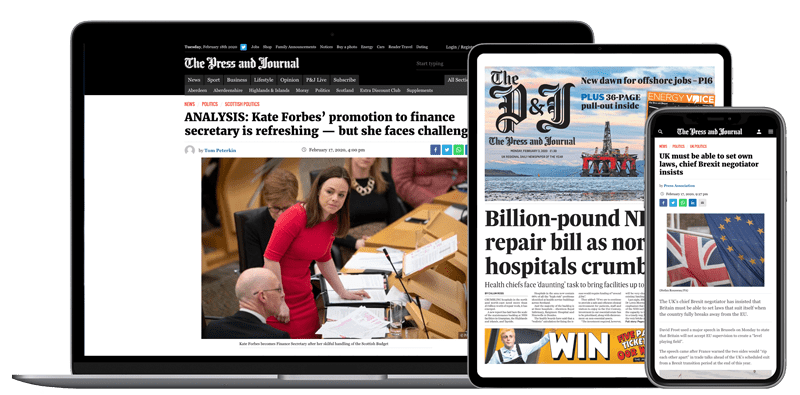 Help support quality local journalism … become a digital subscriber to The Press and Journal
For as little as £5.99 a month you can access all of our content, including Premium articles.
Subscribe