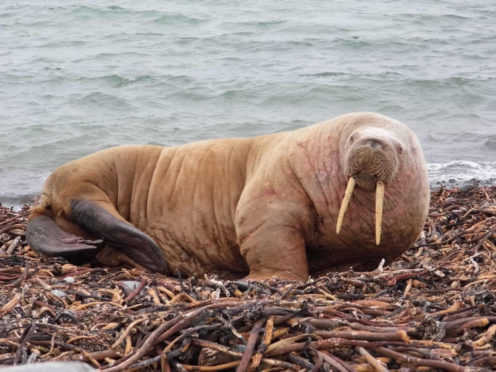 A walrus has been delighting nature lovers in recent months as it completes its own unique version of the North Coast 500.
The creature first touched Scottish soil at the start of March, when it surfaced at Ronaldsay and Sanday in Orkney.
Some experts believe that the Beast from the East storm threw the arctic animal off-course and led to its unexpected appearance on the islands.
The walrus made history as the first one to reach the Scottish mainland since 1954 when it was spotted at Peedie Sands, near Dunnet Head in Caithness, weeks later.
From there, the blubbery mammal ventured west and was observed at Armadale in Sutherland before heading past some of the country's most picturesque beaches en route to its next sighting on the Isle of Harris at the start of May.
By the middle of this month it reached Kinlochbervie, where it was spotted sunbathing with some stunning scenery in the background.
Those following its progress were astounded when its next port of call proved to be Wick – meaning the intrepid explorer had doubled back on itself and passed John O'Groats.
Dozens of spectators gathered to glimpse the animal during the 24-hour spell which it spent in Wick before appearing to depart on Friday afternoon.
Animal lovers across the north and north-east are eagerly awaiting its next sighting, should it decide to remain in Scottish waters and not return north to more familiar territory.
You can track its epic journey using the interactive map below, which offers a timeline of its tour of the north coastline.
Marine wildlife charity British Divers Marine Life Rescue (BDMLR) has been monitoring Wally and trying to assess its condition.
Last month, when the walrus was seen on the Isle of Harris, BDMLR said it appeared to have lost some weight since its appearance in Orkney.
A spokesman said: "Its survival really depends on available food – walruses are also bottom feeders – but unconfirmed reports suggest it is feeding, so hopefully it will do okay."
However, Tom Arnbom, a senior advisor to WWF on the Arctic and its marine life, said images of the animal appeared to show that it was healthy earlier this week.
The scientist said: "It is really rare that they show up outside the Arctic, but it happens now and then. They are a coldwater species and often go ashore, or on to an ice floe to rest.
"The animal looks healthy. As long as it finds food it should be okay."
He added: "Normally they feed on mussels on the bottom and occasionally also fish. Some do also feed on birds and other seal species."
BDMLR has asked that people keep their distance from the walrus to avoid disturbing it.