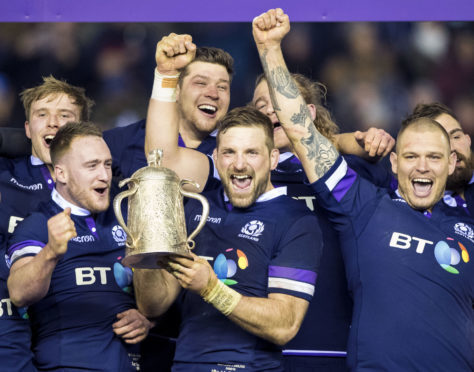 One of sports oldest trophies, the Calcutta Cup, will be in Shetland later this week, where it will visit schools and Islesburgh Community Centre.
Chris Paterson MBE, Scottish rugby ambassador and record points scorer, will also accompany the Cup during the visit.
Members of the public can see the trophy at Islesburgh Community Centre between 3.30pm and 4.30pm this Friday.
The cup will also be on display at Clickimin rugby pitch on Saturday morning, during Shetland Rugby Club's annual Seven-a-side tournament.
School pupils have the chance to take part in some coaching sessions that will be organised by Shetland Islands Council's Active Schools Team, in partnership with Shetland Rugby Club.
Active Schools Co-ordinator Jacqui Murray said: "After Scotland's memorable win over England at Murrayfield last February, it's fantastic to see to the Calcutta Cup, and rugby legend Chris Paterson, visiting Shetland.
"I hope that anyone with an interest in rugby, young and old, takes the chance to come along and see one of the most world's most historic sports trophies.  We're really pleased to support Shetland Rugby Club to develop junior rugby and to help them to grow the next generation of rugby players in Shetland."
The trophy was first competed for in 1879 and is awarded to the winner of rugby matches between England and Scotland.
Scotland lifted the Calcutta Cup at Murrayfield in Edinburgh after a 25-13 win over the old enemy in February.