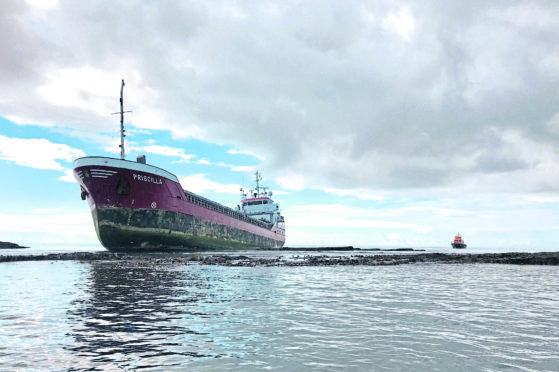 A ship stranded in the Pentland Firth is finally on the move again after running aground last week.
MV Priscilla was stranded on rocks on the Pentland Skerries on Wednesday.
The Dutch-owned vessel was on its way from Scandinavia to a port in Cumbria.
A rescue effort was launched shortly after to free the 291ft long vessel.
This included offloading some of the cargo and fuel on board to lighten the 2281-tonne boat's load before an attempt to refloat it.
This evening this ship, which has six crew members on board, was refloated.
It is now being towed by lifeboat to Scapa Flow so it can be inspected for damage.
A coastguard spokesman said: "At around 9pm tonight the MV Priscilla was successfully re-floated.
"Following an initial assessment it was agreed she was in safe condition to be towed to Scapa Flow, Orkney Isles.
"The vessel will arrive tomorrow morning and will go to safe anchorage where a further assessment, including an underwater dive inspection, will be carried out."
MV PRISCILLA has been successfully re-floated tonight. Following an initial assessment it was agreed she was in safe condition to be towed to #ScapaFlow. She will arrive tomorrow AM and will go to safe anchor where a further assessment will be carried out. More tomorrow #allsafe pic.twitter.com/yYmcd1QDBS

— Maritime&Coastguard (@MCA_media) July 25, 2018