Preparations were being finalised last night to refloat the cargo ship which has been stranded on rocks off Duncansby Head.
The salvage team had completed offloading it's fertiliser cargo aboard the Priscilla before the vessel was successfully re-floated.
MV PRISCILLA has been successfully re-floated tonight. Following an initial assessment it was agreed she was in safe condition to be towed to #ScapaFlow. She will arrive tomorrow AM and will go to safe anchor where a further assessment will be carried out. More tomorrow #allsafe pic.twitter.com/yYmcd1QDBS

— Maritime&Coastguard (@MCA_media) July 25, 2018
The 89-metre long vessel, with six crew, ran aground on the Pentland Skerries early on July 18 as it entered the Pentland Firth en route to the Cumbrian port of Silloth.
The salvage vessels yesterday completed removing 1350 tonnes of the 3300-tonne load of bulk fertiliser aboard the Dutch-registered ship. It was moved on to barges and transferred on to the Priscilla's sister vessel, Alan Evita.
Hugh Shaw, the Secretary of State's acting Representative for Maritime Salvage and Intervention, said the timing of the refloat operation depends on a combination of favourable weather and tidal conditions.
Acting SOSRep Hugh Shaw says that: 'Good progress is being made and the agreed quantity of bunkers has now been safely removed from MV Priscilla. I am pleased to report that operations to prepare the vessel for a re-float are progressing well.' https://t.co/DqibRftmoZ pic.twitter.com/SQjPOcj6yV

— Maritime&Coastguard (@MCA_media) July 24, 2018
Once the 2280-tonne ship is hauled clear of the reef, it will be towed to a local harbour.
Mr Shaw said: "A number of locations are still being considered and the final decision will be made once the structural integrity of the vessel has been established."
A temporary 1000-metre exclusion zone remains in place while the salvage operation is being carried out.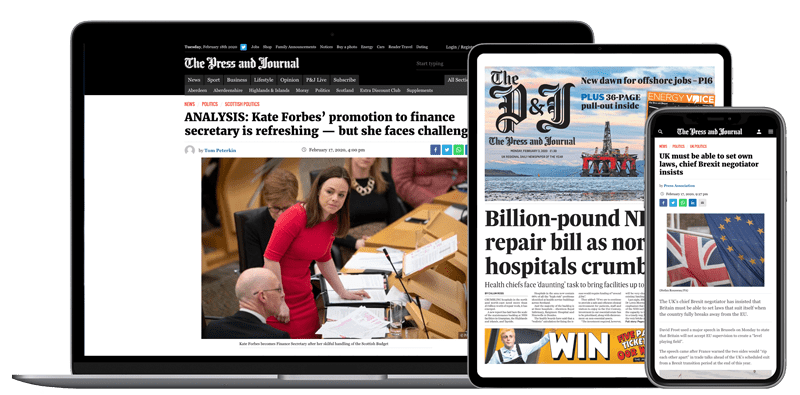 Help support quality local journalism … become a digital subscriber to The Press and Journal
For as little as £5.99 a month you can access all of our content, including Premium articles.
Subscribe