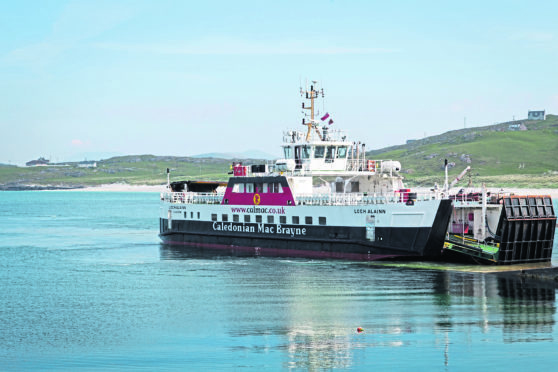 Ferry firm CalMac is to return more than £6million of its subsidy to the Scottish Government – just as £3.5m extra funding was announced to help them recover from a summer of embarrassing setbacks on its lifeline services.
The revelation Caledonian MacBrayne is "contractually obliged" to "return" the cash to Scottish Government agency Transport Scotland for "delivering a strong, reliable performance" in the first year of its new contract has sparked a furious reaction.
The beleaguered firm has been under increasing pressure in recent months over major disruption caused by delays to ferries being returned to service following maintenance work – and news that new ferries will not be delivered on time.
CalMac won a new £900m contract in 2016 to continue operating the west coast ferries network for eight years.
When bad weather and other factors are taken out of the equation, as the contract allows, CalMac reported 99.5% of their services had run within 10 minutes of the scheduled times in its first year.
As a result of profits exceeding the amount agreed in their contract, the company said: "Our efficient and effective service delivery over the year resulted in a clawback return to Transport Scotland of more than £6 million. As far as we are concerned it is a contractual matter."
Western Isles Labour candidate Alison MacCorquodale said: "This is from an SNP fantasy world in which everything is going so well with CalMac that they can afford to return over £6m to Edinburgh, rather than spend it on improving services in the islands."
She said it was "perverse" to penalise the company on the basis of good performance, adding: "Nobody in the islands will recognise the logic or justice in this arrangement.
"It is glaringly obvious that there is a great deal CalMac could do with £6m to improve services, regardless of these extremely selective performance targets."
She added: "On the one hand, we have the reality of £6 million being taken away and now we have the possibility – but no certainty – of £3.5 million being handed back. There are no prizes for guessing which one SNP Ministers announced in a press release."
But the SNP hit back, with Western Isles MSP Alasdair Allan saying: "Labour seem to have a very badly garbled understanding of all this.
"Written into [the] contract is that Calmac should be provided with the difference between what it takes in fares and what it costs to provide services.
"Whenever calculations of fare income show that Calmac has been overpaid, it's only reasonable that the company hands back overpayments to the taxpayer.
"We certainly need to see continued improvement in Calmac services, and I campaign for this. However, Labour's implication that the Scottish Government is making money out of Calmac is palpable nonsense, when you consider that the Scottish Government's subsidy for ferry services has doubled since the SNP came to power."
MP Angus MacNeil added: "The fact that the ferries are not empty means less subsidy is required because we have more fare-paying passengers coming to spend on the Islands economy."
A Scottish Government spokesman said: "The contract to run the Clyde and Hebrides Ferry Service relies on a significant Scottish Government subsidy which is why a clawback mechanism is included to recover excess profits over and above those bid by the operator and ensure taxpayers receive the best value for money."
The background
Caledonian MacBrayne won the new £900million contract to continue operating the Hebrides and Clyde Ferries Network in 2016.
The new contract, awarded by the Scottish government, covers the eight-year period from October 1, 2016.
The CalMac statement on "performance and passenger growth" says: "Strong performance enables us to deliver more and better services to help grow the economies of the areas we support.
"In contract year one we are proud to have delivered a reliable, punctual performance for our customers. Contract reliability of 99.5% and contract punctuality of 99.5% is industry leading, comparing favourably to other transport operators.
"We will continue to improve on our customer service levels currently standing at 92% of customers fairly or very satisfied with the service provided.
"Effective delivery of our services has enabled significant passenger and vehicle volume growth to help support island sustainability.
"Our efficient and effective service delivery over the year resulted in a clawback return to Transport Scotland of more than £6 million."
Total sailings have risen by 2% in the first year, from October 2016, to 137,526.
Car numbers rose by 8% to 1.427million, with passengers totalling 5.28m, up a total of 7%. Coach numbers also rose by 5% to 79,856, while commercial vehicle metres which board the ferries totally almost one million, up by 3%.
CalMac operates 31 vessels to 24 island destinations and 50 ports.