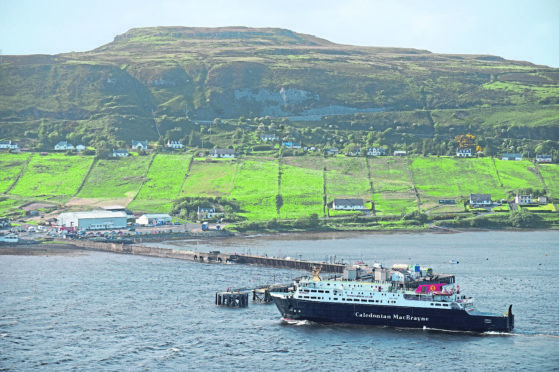 CalMac and the Scottish Government were under fire again last night after further ferry disruption – with urder action demanded over the "shambles of island ferry services".
Passengers suffered further delays after the MV Hebrides was unable to sail the triangular route that serves Tarbert on Harris, Uig on Skye and Lochmaddy on North Uist.
The latest problem – blamed on a critical fire safety system – had a knock-on effect to the Mallaig-Armadale and Mallaig-Lochboisdale routes.
Tourism operators say they have lost "millions" from ferry disruption throughout the summer.
The MV Hebrides has resumed sailings after breakdown over the three days.
The MV Lord of the Isles was diverted from her South Uist route to carry out relief sailings between Skye and North Uist.
Alison MacCorquodale, Labour's prospective Parliamentary candidate for the Western Isles, said: "This week again, the islands are suffering massive disruption and loss of business due to CalMac break-downs and diversions.  It should be clear even in Edinburgh that the existing fleet is not up to the challenges it faces.
"With the recent news of further delays to the delivery of a new vessel for the Tarbert-Uig-Lochmaddy routes, it must be accepted that immediate measures are required. At least one vessel must be leased in order to provide back-up and to ease the pressure.
"In current circumstances, it is beyond belief that CalMac were forced to hand £6 million back to the Scottish Government because they performed to such high standards."
She claimed the Scottish Government had failed to plan for anticipated demand, to pursue a reliable procurement policy and to react with any sense of urgency as the problems developed.
Outer Hebrides Tourism (OHT) said it saw "no end to the critical issues caused by the continued unreliability of ferries to these islands as we end the season as it began – with disruption".
OHT has previously costed ferry disruption to the islands' economy at £6million and claimed there were critical concerns about the future of Hebridean tourism businesses.
Chairman Ian Fordham added: "Whilst the Scottish Government must now invest in CalMac to improve fleet resilience, they should also recompense our local businesses and invest in rebuilding confidence in the Outer Hebrides as a tourist destination after the negative economic impact of this summer's ferry fiasco! This has hit tourism business not just this summer but its future growth too."
Among its other complaints were that two new ferries were delayed "with nothing else in a build pipeline".
There are more than 218,000 visitors to these islands per year, almost 90% of these from the UK and 85% of them travel by ferry.
Mr Fordham added:"We continue to raise this significant risk to the sustainability of our tourism businesses.
"The Outer Hebrides is a stunning place for tourists to visit and enjoy all year around but we want them to be able to get here and home again without disruption.
"There has been a distinct lack of any visible action this summer from Transport Scotland and successive Scottish Government Ministers – as ministerial responsibility for ferries has changed three times in the past six months alone – to address this despite the local economic impact."
A CalMac spokesman said: "Repairs to MV Hebrides were completed yesterday (Wednesday) afternoon and she returned to service on the Uig triangle at 4pm. We apologise for any inconvenience caused and are grateful for customers' patience during this period of disruption."
Scottish Government agency Transport Scotland last night revealed CalMac was now working on a marketing plan with Outer Hebrides Tourism to promote the islands and, in particular, the area where local businesses were affected by disruption to ferry services this year.
And responding to the latest criticism over breakdowns and delays, a spokesman said: "Over £1 billion has been invested in ferry services across the Clyde and Hebrides since 2007, including the MV Loch Seaforth and harbour upgrades at Stornoway and Ullapool.
"We are continuing to invest in new vessels and ferry infrastructure to renew the fleet.
"Work is also already underway to appraise, and subsequently to deliver on, further improvements to the ferry services to the Western Isles, including the important Ullapool-Stornoway route.
"While this further delay to the two new ferries is disappointing, it is important to focus on the fact that we will have two new ships joining the fleet serving the Clyde and Hebrides network that have been built in Scotland, providing vital support to our ship building industry."