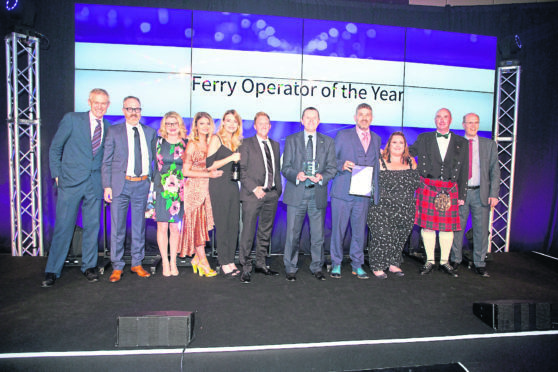 In a season blighted by breakdowns and delays to services, CalMac has been named "Ferry Operator of the Year 2018" at the National Transport Awards.
The award is open to ferry operators running services from ports in the UK and Ireland. Entries needed to demonstrate how they have improved services and facilities over the year. This included results that have been achieved across performance and reliability, passenger growth, and customer satisfaction.
There was disruption this week on the Stornoway to Ullapool route after CalMac's flagship ferry, Loch Seaforth, crashed into the pier at Stornoway on Sunday.
The Secretary of State for Transport gives the opening address at the National Transport Awards 2018, for the third consecutive year. pic.twitter.com/z9u58BEXhg

— Transport Times (@TransportTimes) October 11, 2018
Repairs were made to the damaged ferry doors but there was knock on disruption on other routes before services could return to normal. It followed two break downs by the vessel in as many months.
And there was major disruption to ferry services in the Western Isles from April to June this year, as all major vessels were re-shuffled following the breakdown of the Clansman.
Angus Campbell of Stornoway, chairman of CalMac community board, said: "We acknowledge the fact they have won the award but many issues will have to be solved going forward.
"We have still got the evidence of vessels breaking down and services being disrupted without having capacity in the fleet to cover when they do, so passengers are the ones losing out. We are looking for investment in new vessels."
Heading for Isle of Mull, glorious day in Oban.@CalMacFerries @Scotland pic.twitter.com/jm0NyhfmSG

— BalladofCurtisLoew (@SkynyrdScotland) October 14, 2018
CalMac managing director, Robbie Drummond, said: "This is an award for all our staff in recognition that no matter what challenges we face, whether it be extreme weather conditions or vessel availability, they will always provide the best possible service for our customers."
The awards are organised by industry publication Transport Times with a prestigious judging panel that included Professor David Begg, former lecturer in transport policy at Robert Gordon University in Aberdeen and current visiting professor at Plymouth University. Louise Ellman MP, former chair of the House of Commons Transport Select Committee and Claire Haigh chief executive of sustainable travel group, Greener Journeys.
CalMac operates a fleet of 33 vessels across 26 routes serving island and remote mainland locations across the west coast. Last year they carried more than 5.3 million passengers, an increase of 300,000, and nearly 1.4 million vehicles.
Mr Drummond added: "While this is great for our communities' economies, it can be a challenge to manage within the fleet resources at our disposal. This is a huge recognition that our people can continue to provide a first class customer experience in the face of booming numbers travelling with us."