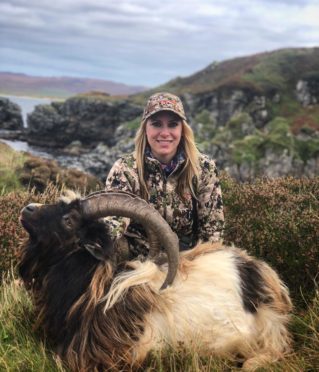 An American reality TV star who sparked outrage by posting "trophy" photographs online with dead goats on Islay has received death threats.
But yesterday Larysa Switlyk remained defiant about the pictures on social media, in which she touted high-powered weapons.
---
>> Keep up to date with the latest news with The P&J newsletter
---
The Scottish Government plans to will review the law around animal culling in the wake of the response to the images.
American TV presenter slammed for posting 'sickening' images of dead goat on Islay
And First Minister Nicola Sturgeon Tweeted: "Totally understandable why the images from Islay of dead animals being held up as trophies is so upsetting and offensive to people.
"@scotgov will review the current situation and consider whether changes to the law are required."
Yesterday Ms Switlyk said she was "headed out on a bush plane for my next hunting adventure" and would be out of service for a fortnight.
The Larysa Unleashed presenter, has been widely criticised after posting a picture of herself smiling behind the wild goat, with more than 12,000 people commenting on the image.
The Scottish Government, VisitScotland and Argyll and Bute MSP Michael Russell all said that while they agreed with the responsible culling of animals, it should be done "sensitively".
Green MSP John Finnie has lodged a parliamentary motion calling for a ban on "trophy hunting" in Scotland. He called the pictures "distasteful" and raised concerns with police regarding firearms licensing and the appropriate processes around the slaughter and disposal of livestock on estates.
On social media on Wednesday night, Ms Switlyk said she was heading into the wild to connect back with nature, posting a picture of herself next to a small seaplane.
She wrote: "My ride has arrived – I'm headed out on a bush plane for my next hunting adventure and will be out of service for 2 weeks.
"Nothing better than disconnecting from this social media-driven world and connecting back with nature.
"Hopefully that will give enough time for all the ignorant people out there sending me death threats to get educated on hunting and conservation."
The post attracted almost 1,000 comments on Twitter, with many people saying they hope Ms Switlyk does not return to Scotland.
In the comment which sparked the furore, the presenter wrote: "Beautiful wild goat here on the Island of Islay in Scotland. Such a fun hunt!! They live on the edge of the cliffs of the island and know how to hide well.
"Made a perfect 200 yard shot and dropped him."
Sarah Moyes, campaigner for OneKind which campaigns against animal cruelty, said: "This is not the kind of tourism we should be encouraging in Scotland, let alone allowing to happen in the 21st century."
Wild goats advertised as targets on Rum
Wild goats on Rum have been advertised as a target for shooters – at a cost of £720 per animal.
And it has emerged that hunting enthusiasts have killed 20 billy goats on the Hebridean island, which is owned by government wildlife agency Scottish Natural Heritage.
The cull on Rum last month follows outrage over an American hunter's trophy pictures from a Highlands shooting trip which has prompted the Scottish Government to consider legal changes.
There are an estimated 250 of the feral goats on Rum and conservation body SNH, which manages the island, has signed over the right to cull them to Toby Fichtner-Irvine, who runs Gallanach Lodge on the nearby island of Muck.
The goats, which have shaggy coats and swept-back horns, have been a common sight on the island for centuries.
Mr Fichtner-Irvine said that goats needed to be culled because of the "fragile habitat" on Rum, which is a national nature reserve.
He added: "There has been a lot of ignorance over the shooting of goats.
"The ignorance is quite incredible – they are no different to deer. They have no predators and they would cause massive ecological damage in a very fragile habitat if they were not culled.
"This is the first time we have carried out goat stalking on Rum. We do not shoot sheep – in fact I find it disgraceful and distasteful they shot a tup (on Islay)."
Three fully-qualified professional stalkers were employed on Rum and every guest was given a shooting test before embarking on the cull.
A spokesman for SNH said: "We need to control goats on Rum to reduce impacts on habitats that are vital for a range of species.
"Animal welfare is of paramount importance to us. Stalking on our properties must be carried out by someone with industry-accepted competence to carry out this work."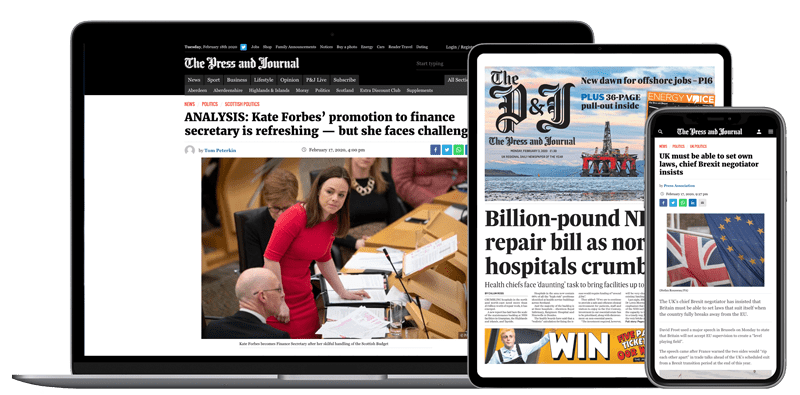 Help support quality local journalism … become a digital subscriber to The Press and Journal
For as little as £5.99 a month you can access all of our content, including Premium articles.
Subscribe