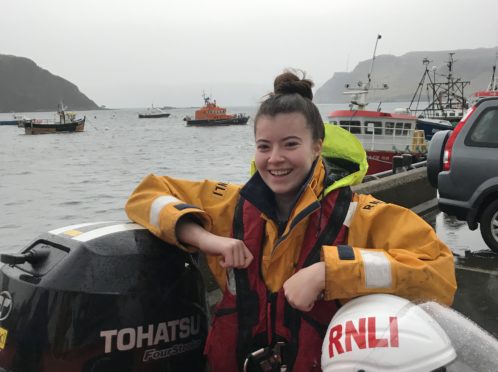 A Skye teenager on-call with the RNLI over Christmas was celebrating yesterday after successfully navigating her first real shout.
Chloe Urquhart, 17, from Portree has only been a volunteer for a mere few months since officially becoming a member of the station at Portree in October.
In the early hours of yesterday morning, Chloe, along with her colleagues from the Portree station, was tasked by the Coastguard Operations Centre in Stornoway to assist the ambulance service with a medical issue on nearby Raasay.
After her pager went off at around 12.20am, Chloe and her father Peter – a deputy launch authority at Portree – sprung into action and raced down to the lifeboat station.
Chloe said: "I had just gone to bed when I heard my dad's pager going off. He is part of the launching authority so they get paged before we do and then mine went off.
"It was brilliant and a completely different situation to the training exercises. It was really exciting because the situation kept changing. It was great to see the crew properly functioning in an emergency situation."
The head girl of Portree High School thanked her father and fellow crew members for their assistance on her first shout.
As a result of the incident, an 86-year-old man was airlifted to Raigmore Hospital, arriving at about 4.20am. His condition is not known.