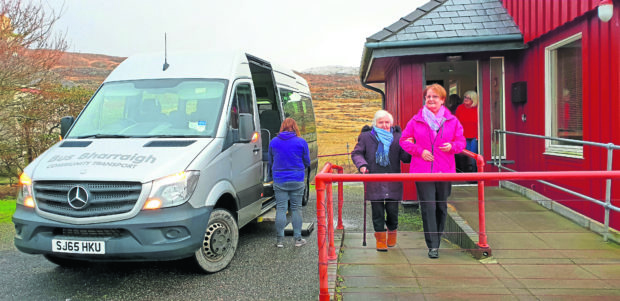 A community transport group on Barra already does good work around the island.
But its members are convinced that winning a new minibus from The Press and Journal would help them take even more islanders out and about.
For many years, Voluntary Action Barra and Vatersay has been running a door-to-door transport scheme to meet the needs of remote and rural community care organisations, adult learners, hospital transport, youth clubs and youth cafes.
The scheme fills a gap in transport services and provides a flexible approach to transport needs in a small island community. Many services that are available to the community could not be accessed without Bus Bharraigh.
Eoin MacNeil, development manager, said: "Winning the bus would mean we could consolidate the service provision we have at the moment.
"We could also develop new services for services in mental health support and tackle issues of social isolation.
"The cost of transport for days out is expensive and it would mean that we could offer a lot more days out and the bus would also be an asset that we could rent out to the community.
"It would generate revenue to cover maintenance costs and some of the costs of the trips. It would give us the freedom to choose dates that suit us as we have had difficulty getting transport previously on the dates we have chosen."
The last token to help win the 17-seater Ford is available in today's P&J. Groups can enter as many times as they like, as long as each form has 50 tokens attached.
All entries to win the bus, which is worth more than £40,000, must be received by February 11.
The competition, which will see the P&J giving away a fantastic minibus to a local community group within our circulation area is being sponsored by CNOOC International.
Last year, 1st Methlick Scout Group drove away with a brand new bus and it has been put to good use, transporting youngsters all over the country.