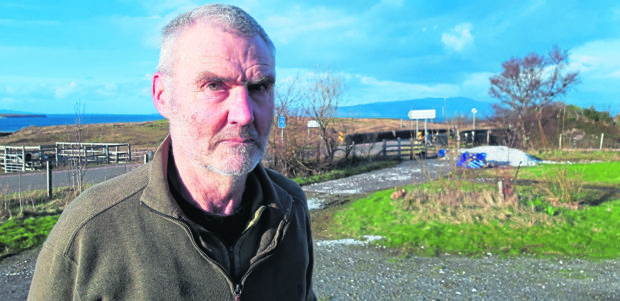 A controversial plan for a trial of flights from a Skye airstrip to the central belt of Scotland and London has been approved by councillors.
Skye and Raasay councillors unanimously agreed to seek £170,000-worth of funding from Highland Council coffers to "re-establish" a commercially-run airport at Ashaig, at the south end of the island.
They will now work with Highlands and Islands Airport Limited (HIAL), Highlands and Islands Enterprise (HIE) and other partners.
Campaigners against the project have claimed the subsidy required to run the airport would take money away from projects such as schools and pothole-free roads.
---
>> Keep up to date with the latest news with The P&J newsletter
---
Richard Gerring, Highland Council's planning transport manager, said the short-life working group that had looked at the airport were now ready to move to a new stage of development, which would be led by HIAL as the partner who had "an incredible amount of knowledge" in operating airports.
In a presentation to the Skye and Raasay Committee, Mr Gerring said: "The reasoning behind re-opening an airport in Skye  are economic and to make the area more resilient.
"People will be able to access specialist health services, the community will be more resilient as we will be able to attract and retain talent in the area, we will be able to diversify the economy by the types of business we are able to encourage, and we will be meeting the needs of businesses on the island.
"Central government was very resistant to our first business case, but we have now prepared a second business case which has been well received.
"We are ready to move to the next stage, and we will need to put some funding on the table to allow our other partners to make contributions to the plan.
"At the moment we are looking at the cost effectiveness of the plan to have a trial of either three or five years to make the figures work.
"The length of the current of the runway at 2529 feet will not be changed, but there are some infrastructure that will be required to make it work.
"At least five well-paid jobs will be created."
Councillor John Finlayson said that some members of the community had a number of concerns about the project and the way in which money may be allocated to it.
He asked: "Will there be a community consultation?"
Mr Finlayson was told that a social and economic study had taken place with more than 179 people responding to a questionnaire.
Councillor Ronald MacDonald said a return on investment, believed to be more than double, "seemed prudent".
After the meeting, Tom Stephens, a business owner based next to the aerodrome, said: "The officers failed to answer many questions, and what they did answer was not answered satisfactorily.
"The Portree pantomime was well rehearsed, but utterly unconvincing.
Speaking on behalf of a group of objectors, he continued: "We are against a subsidised airport. If it is commercially run then that is a different case.
"This airport will not benefit the people we would like it to benefit.
"We don't think subsidising high-end business users and their customers is correct.
"We feel that we have to oppose it strongly at every stage, as every step the council takes forward makes it more and more likely to happen.
"This trial is a Trojan Horse, a sham. If this trial goes ahead – that is it.
"This folly will take money away from the areas that are really needed schools, and pothole free roads. It needs to be stopped."