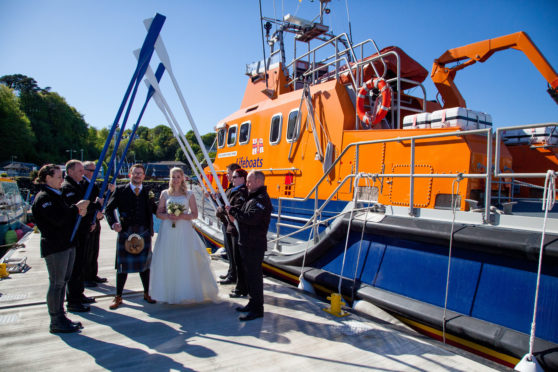 The coxswain of a lifeboat on Mull was honoured on his wedding day when a guard of honour was formed by the volunteer crew with ceremonial oars outside the church.
David McHaffie married his bride Seonaid on Saturday at Tobermory Parish Church, with his fellow crew members honouring their big day by performing the ceremonial duty, representing a huge part of Mr McHaffie's life.
The blue and white oars were deployed outside of the church and again on the pontoon, as the happy couple visited the Severn class all-weather lifeboat, the Elizabeth Fairlie Ramsey, of which Mr McHaffie is the coxswain.
Mr McHaffie, who was appointed Tobermory's full-time coxswain in June 2015 – at the age of just 26 – is one of the youngest coxswains in the RNLI. He took over the role from his brother Andrew, who is now a senior fleet staff coxswain, with Andrew standing as one of the best men at the wedding.
In keeping with the lifeboat theme, fellow crew member Alexander 'Wee Jock' Anderson played the pipes and education officer, Kirsty Blackhall performed on the fiddle to lead Seonaid into the church.
And not to feel left out, Dr Sam Jones, who is the lifeboat operations manager, was on hand to snap the best of the couple's big day.
Dr Jones said: "We were blessed with beautiful sunshine and it was a truly wonderful day.
"The use of the ceremonial oars is a tradition across the RNLI but it is the first time I have seen it done here at Tobermory.
"It is a very touching way to incorporate a huge part of David's life into one of the biggest days of his life.
"All of us wish David and Seonaid the very best for their future together."
The wedding procession was led by piper to the Aros Hall where music was provided by Gunna Sound following a meal at the Mishnish Hotel.
In a poignant tribute, a prayer during the ceremony was said for the late Reverend Johnny Paton who had been due to marry the couple before his untimely and tragic death last week, after embarking on a solo expedition to An Teallach in Wester Ross.
The 60-year-old was also remembered during the wedding meal, with Mr McHaffie toasting the minister who was so dearly held in the local community.
Dr Jones added: "Johnny was such a lovely man and he was really well liked by believers and non-believers alike in the local community."
The newly formed Mr and Mrs McHaffie are currently honeymooning in Lanzarote so were, understandably, unavailable to comment yesterday.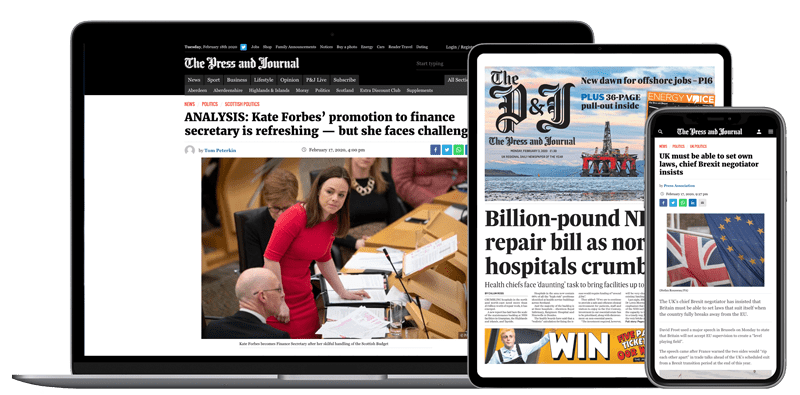 Help support quality local journalism … become a digital subscriber to The Press and Journal
For as little as £5.99 a month you can access all of our content, including Premium articles.
Subscribe