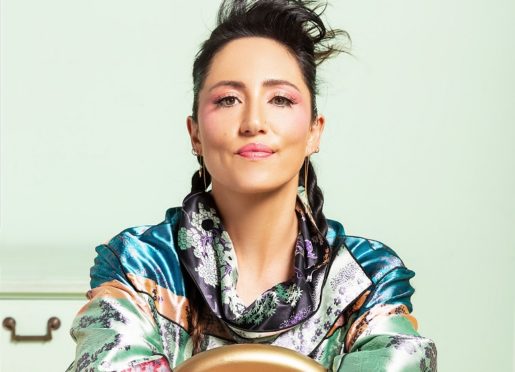 Singer KT Tunstall has said the organisers of the Hebridean Celtic Festival "deserve an award" for making sure women are equal in number to men performing at the event.
The international award-winning singer made the comments about HebCelt in an interview in which she talks about karaoke, equality and her love of the islands.
Tunstall has an all-female band – and HebCelt organisers are proud of having a more than 50:50 gender balance for at least five years.
Tunstall says she knew her career was taking off after she approached the mic in a Los Angeles karaoke bar, and found her own famous song on the playlist.
She said: "I was looking for Faith by George Michael and they didn't have it. But they did have Black Horse and The Cherry Tree. So, I sang that instead."
Speaking about returning to the HebCelt festival after eight years, she said: "I just absolutely love this part of the world. You can travel all over the globe and there's nothing like the Scottish isles.
"Even the journey getting to Stornoway is a total adventure.
"And then of course there's the crowd, and being Scottish myself there's such a great feeling of coming home."
"Massive props to HebCelt for this, it deserves an award", she said. "It's still a major problem, and definitely part of the reason why I wanted to play with an all-female band.
---
Local and Proud: Follow our new Facebook page dedicated to the Highlands and Islands
---
"Representation is extremely important for young people to make the leap of faith to follow a dream. The saying goes 'You cannot be what you cannot see'. Another festival I'm playing has 14 male acts on the listed line up before I am mentioned, the first female on the bill. It's not good enough."
HebCelt 2019's main stage runs from July 17-20 in the grounds of Lews Castle in the centre of Stornoway.
This year the line up features international acts including The Shires, Newton Faulkner, alongside the home grown talent of  Tide Lines, Face the West and Manran. Events are also run in various venues around Lewis and Harris.
Now in its 24th year the festival is run and managed almost entirely by volunteer effort bringing more than £2.5million into the local economy. A visitor impact study in 2016 showed that 41 tourism-related jobs were secured by the festival.