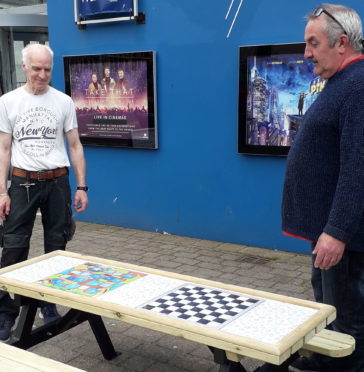 Children on the islands can enjoy a game of snakes and ladders or draughts while out on a walk with parents, thanks to a new initiative from a local charity.
The Western Isles Lifestyle Lottery team are testing out a set of three children's board game benches in Stornoway town centre over the summer months.
Parents and children are being reminded not to forget counters and the all important dice when they sit down to play the new board game seats around the town.
Janet Paterson of the Western Isles Lifestyle Lottery said: "We have placed two in Perceval Square and another in An Lanntair's forecourt.
"The idea has also been picked up in Iochdar, South Uist where children will soon be able to enjoy the new addition to their community.
"The tables each have a chess or draughts board plus one other game for different ages and abilities and parents are encouraged to carry a dice or counters with them when out with their children."
Mrs Paterson said parents should remember to take a dice and counters for using the board games when people are out and about.
She continued: "This is just one of many initiatives we have been trialling in and around the Western Isles.
"The lottery has been running for less than two years but we have given more than £100,000 to projects locally and more than £35,000 has been given out in prizes."