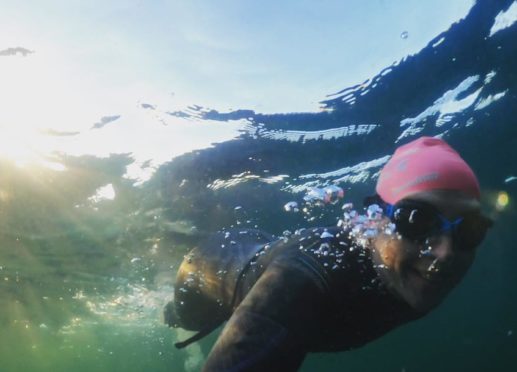 A chilling experience lies in wait for adventure enthusiasts through the launch of a brand new guided tour in the Western Isles – by taking to the open water.
Norma MacLeod has launched the brand new venture which will take visitors on an exploration through the cold waters surrounding the Hebrides.
The Stornoway woman's new business, Immerse Hebrides, has been such a hit that she has been inundated with requests, fully booking up for the month of July in just a mere few days since its launch.
The 44-year-old, who describes herself as a "lifelong swimmer" had previously competed until her late teens, representing Scotland in international swim meets as a sprinter, before re-immersing herself in the cold open waters in recent years after being encouraged to take part in a triathlon by friends.
She said: "It started really as swimming holidays and I knew of quite a few local people who were interested so I would take them out. Eventually, I thought that this would be a great job so I have taken the plunge and we are giving it a go.
"A few years ago a friend of mine encouraged me to join their team for a triathlon and to take on the swimming part, so I got back into swimming then after a lengthy absence.
"About four years ago I took part in an open water triathlon and that really changed it for me. From then on I wanted to get out of the pool and get into the sea.
"It really is turning a hobby into a job and I am really excited to get going."
The new venture is very much a family affair with Mrs MacLeod's husband, the former coxswain of Stornoway lifeboat, providing assistance on the swimming tours from the safety boat that will follow the group of swimmers, as well as providing access to some of the smaller and harder to reach islands before swimmers can take the plunge and explore.