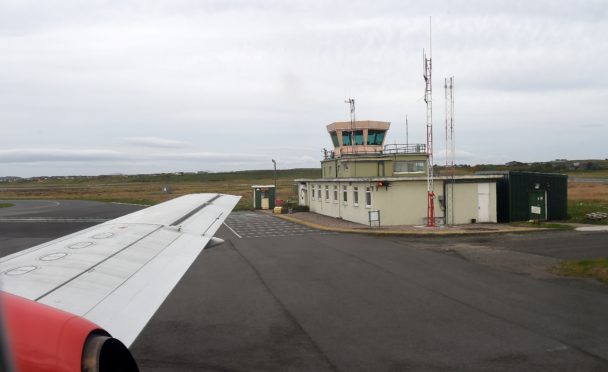 Travellers to and from the Western Isles were left stranded today as the ongoing dispute over the rate of pay offered to air traffic controllers entered a third day of snap strikes.
Passengers attempting to travel to and from both Benbecula and Stornoway airports, on Uist and Lewis respectively, were halted in their tracks as flights at the Highlands and Islands Airports Limited (Hial) airports were grounded.
The 24-hour strike follows similar action undertaken earlier this week, as Inverness Airport was closed due to industrial action on Sunday, with Sumburgh Airport on Shetland and Kirkwall Airport on Orkney closed on Monday as air traffic controllers seek to gain their desired pay increase.
The industrial action, despite the end of the three-day snap strikes at midnight, will remain in place after negotiations between HIAL and the Prospect union stalled after the rejection of a proposed £10,000 improvement package earlier this month.
It is estimated that over 5,000 passengers have been affected over the course of the strikes.
Richard Hardy, Prospect national secretary, said the union have been seeking to solve the dispute for more than a year and felt Hial and Scottish ministers had backed their members into a corner where there was no option but to strike.
He added: "Strike action is by its nature disruptive but if we are to safeguard the long term future of air services in the Highlands and Islands we have to start paying air traffic controllers a fair wage.
"This is the only route our members see available to them to achieve this."
Hial managing director Inglis Lyon apologised for the inconvenience but remained confident that a resolution can still be found.
He added: "We can only deliver an affordable settlement within the terms of Public Sector Pay Policy. So far Prospect has continued to ask for a pay increase far in excess of what we are able to afford and that unfortunately remains the situation."
A Scottish Government spokesman said: "Hial has been authorised to develop a retention allowance as part of the Air Traffic Management 2030 Strategy programme.
"We have been clear with both Hial and Prospect that any settlement must be in line with Scottish Public Sector Pay Policy."
Regional MSP Jamie Halcro Johnston questioned the implications strike action has delivered, especially for those seeking to access medical appointments on the mainland.
He said: "The NHS uses flights, most notably to transport consultants and other medical staff. But I have also had concerns raised with me by constituents over delays to their medicines reaching island health boards because of the strike action, and I'm worried that the essential transport of medical supplies and equipment is being affected."
Alasdair Allan MSP added: "These flights to the Western Isles are lifeline services which people rely to visit the mainland, work and visit family.
"My constituents are constantly having to change their travel plans as a result of this industrial action, which has now gone on for far too long.
"I urge both the union and Hial to recognise the negative affects this action is having on islanders and to urgently work towards reaching a resolution."
Twenty-four-hour strike action was also undertaken today at Dundee Airport.