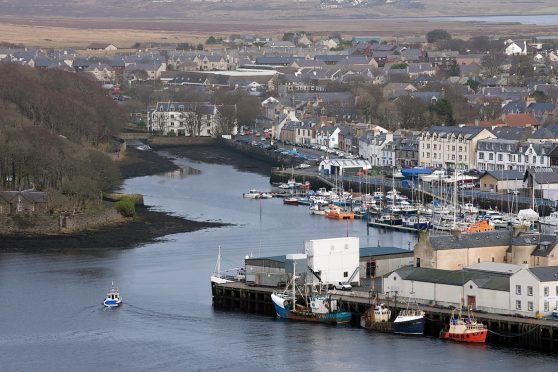 More than 100 jobs could be created under plans to breath fresh life into a run-down area of Stornoway.
Local haulier DR Macleod intends to create a new commercial zone with modern business and light industrial units within the Newton district, the industrial heartland of the main town in the Western Isles.
His proposal focuses on a derelict L-shaped 5.5 acre plot tucked behind existing buildings between Sandwick Road and Island Road.
Up to 16 units could fit onto the plot, though final numbers may be fewer with a mix of large industrial buildings and smaller start-up premises.
Each unit would have its own car parking alleviating the present extensive problem of vehicles clogging up the nearby streets and being left on pavements.
The proposed revamp will play a major part in winder regeneration ambitions for Stornoway.
Comhairle nan Eilean Siar (Western Isles Council) and Highlands and Islands Enterprise (HIE) are working with Mr Macleod to create access roads and improve infrastructure.
Despite being at a very early stage, there is already "substantial interest" in the proposed modern commercial and light industrial facilities with inquiries from both new and existing businesses.
Indeed, the site would "rapidly fill up" if all the present informal enquiries came to reality, said Mr Macleod.
Mr Macleod explained: "We believe this development could create in excess of 100 jobs. Our plan is to bring this sizeable area into use.
"This could happen relatively quickly, depending on the level of interest.
"There are a lot of existing businesses which are constrained from growing because of the lack of suitable premises.
"With this large area of undeveloped ground there is the potential to tailor buildings to whatever the individual client requires in terms of size, location or off-road parking amongst other things.
"This provides an opportunity for people to start new enterprises or expend a current businesses.
"Now we will engage with people, see what their aspiration and requirements are and move forward."
The next step is to secure the necessary permissions and appoint a contractor to undertake construction works including a two way road with street lighting, drainage and pavements.
Donald Crichton, Western Isles Council's development spokesman, said: "We are very encouraged to hear of the new plans for Phase 2 of Stornoway regeneration.
"Following on from existing works being carried out at Goat Island and the transformation of former mill buildings in Newton, these targeted interventions will create more jobs, infrastructure and visually improve the area."